Hello Stampers!  Welcome to Stamping Imperfection!
I created Stamping Imperfection to share my love of crafting with other people.  I would like this to be a source of inspiration to spark your creativity.  I love to teach and I want to show you how to use all of those stamping supplies that you are buying!  My goal is to give you ideas and teach you techniques that you can use to make cards, scrapbooks and paper craft projects that you are proud to give and to display!!  I have created my blog, my videos and my online classes to help you find the same satisfaction in creating beautiful handmade items that I have found!
I joined Stampin' Up! in 2012 and what a fabulous journey it has been so far!!!!  I'm loving every minute of it!
I can't remember a time in my life when I didn't have at least one craft project of some kind going.  My grandmother started me off before kindergarten by giving me a set of pillow cases and embroidery floss for Christmas one year.  What a wonderful gift that was.  Not only did I have a new skill to learn, but I developed a love of creating beautiful projects that has lasted my entire life!  Both of my grandmothers set the example that there is nothing better than a handmade gift.  From the flannel nightgowns to the afghans that I still use to this day, Christmas always meant a really wonderful gift made just for me by my grandmothers.  I have tried to pass this tradition on to my own children as well.
My husband and I just celebrated our 29th anniversary in 2014!  We are the parents of two amazing college graduates.  I am also a high school science teacher with 27 years of teaching experience.  I was born to teach.  I used to line up my dolls and teach them reading, math and spelling.  My parents hung a small chalkboard on my bedroom wall to encourage my passion for teaching!  Needless to say, it worked!
I've won several teaching awards over the years.  I was selected as the 2002 Walmart Teacher of the Year, the 2006 National Honor Society Teacher of the Year, the 2007-2008 RHS Teacher of the Year, and I have been listed in Who's Who Among America's High School Teachers multiple times!
Since joining Stampin' Up!, I've been published several times and I've been featured as a Guest Artist/Blogger on several DIY and Crafting Sites.  I am also a Design Team Member for the Paper Craft Crew and a contributor to Craft Storage Ideas!
I am very excited to share my ideas with you.  Please join me on a creative journey on which I hope to inspire you to create beautiful hand stamped cards, scrapbooks, and paper crafts.  I may even throw in some sewing projects too!
Happy crafting!
Kim  Skinner
I was a 2014 Stampin' Up! Rising Star!
I am a Contributor for Craft Storage Ideas:
I am a Design Team Member for Paper Craft Crew:
I was featured at Craft Gossip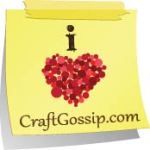 I have been featured on
Think Crafts
: