Have you ever played along with a Tic-Tac-Toe Challenge?
This week's Paper Craft Crew challenge is a Tic-Tac-Toe challenge and it's a good one! 
I chose the top row.  I used the masculine birthday theme with a watercolor background.
I'm still playing with Catherine Pooler's Let's Party release and her new One Plus One release comes out today!!  The stamp set is called Yay Gifts!  I loved this stack of gifts and that is what drew me to this stamp set.  It also has a row of balloons that is next on my list to create a birthday card with!  You can see that I added a soft watercolor wash with Altenew's Iceberg ink.  I colored the gifts with my Altenew Artist Markers and added some Iceberg splatters and sequins to finish off the card.
I think this is a great masculine card, although it isn't a traditional brown card that we all tend to make for men.  I think this is more fun and this one is going to my son next month.  He turns 27!  (My baby!)
Supply List:
Are you interested in the products I used?  To make them easier for you to find, I have linked them below. (Affiliate disclosure ) Your purchases help keep my blog running at no additional cost to you and I thank you for the support!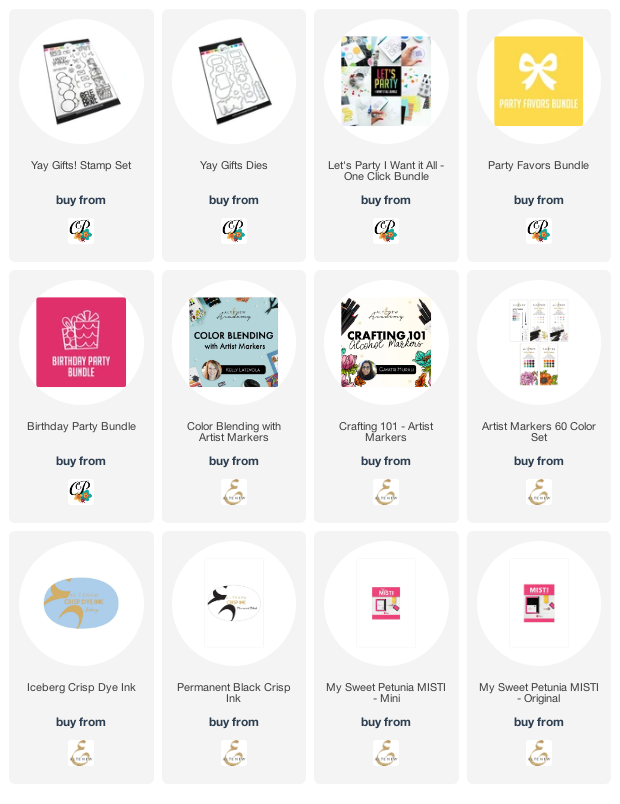 Make sure to check out Catherine Pooler's Shop today by clicking the picture below!  Her new release is today and it's a good one!!  I got a sneak peek as a Stamp Nation member and I got to order early!
Thank you for stopping by!!!  Make sure you leave a comment and let me know what your latest crafty project is!  I would love to hear what you've been up to!