I'm going to brag for a minute.  My craft room is so clean and organized that it is ridiculous!
I'm not kidding!  I spent my entire weekend fine tuning the systems that  I've been using for the last year.
A year ago, over Thanksgiving, I put down my peel and stick floor tiles, moved all my furniture in to place and began the chore of putting my craft room together.
I spent Christmas vacation, February break, spring break and summer vacation working on my room and practicing techniques and new coloring techniques.
I feel like the room has really come together.  I spent a lot of time on details.
One detail that I'm still working on is my Ikea Alex drawers.  The bottoms warped.  Apparently this is an issue with these units because only one side of the drawer bottom is laminated.  Even though I didn't store anything heavy in them, they warped and the bottoms started to fall out.  This led to me not being able to open then or use them.  I actually had to take the drawers apart and I have weights sitting on the bottoms on the floor of my craft room.
I can't wait to have all that storage space to use when I get the drawers repaired and put back together!
Today, I want to share a project that I've been playing around with all week.
This piece is all about experimenting.
I fell in love with the Brutus Monroe tree background.  How fun is this?  I love the artsy designs on the Brutus Monroe stamps.  They are always fun and quirky designs and I find them fun and appealing.
You can see that the trees are all different colors.  I was experimenting with color combinations using my Zig Clean Color Real Brushes.  I sort of scribbled on the color where I thought it should be the darkest, added a little of a second color and then used a wet brush to spread out the color.
I also tried the Marvy Snow Marker that I got over the summer on Amazon.  It was on sale.  You scribble it on and then heat it with your heat tool and it puffs up.
I worked on it a little every day this week because it was a week full of meetings and I had only a  few minutes every day to relax.  I love watercoloring and I've been meaning to try out these Zig Real Brush markers.  I love that I can watercolor with them and there is a huge selection of colors. You can see that I used at least 8 greens on the trees just to see what they looked like.
I ended up creating a frame in red, adding a die cut sentiment from Lawn Fawn and a white embossed secondary sentiment from Brutus Monroe's Oh Deer stamp set.  Another fun set!
I added some Studio Katia iridescent drops and spritzed it with some shimmer mist for sparkle.
It's one of those experiments where I am embracing the imperfections.  I had a lot of fun creating it in between meetings and organizing over the weekend.  
Supply List:
Are you interested in the products I used?  To make them easier for you to find, I have linked them below. (Affiliate disclosure ) Your purchases help keep my blog running at no additional cost to you and I thank you for the support!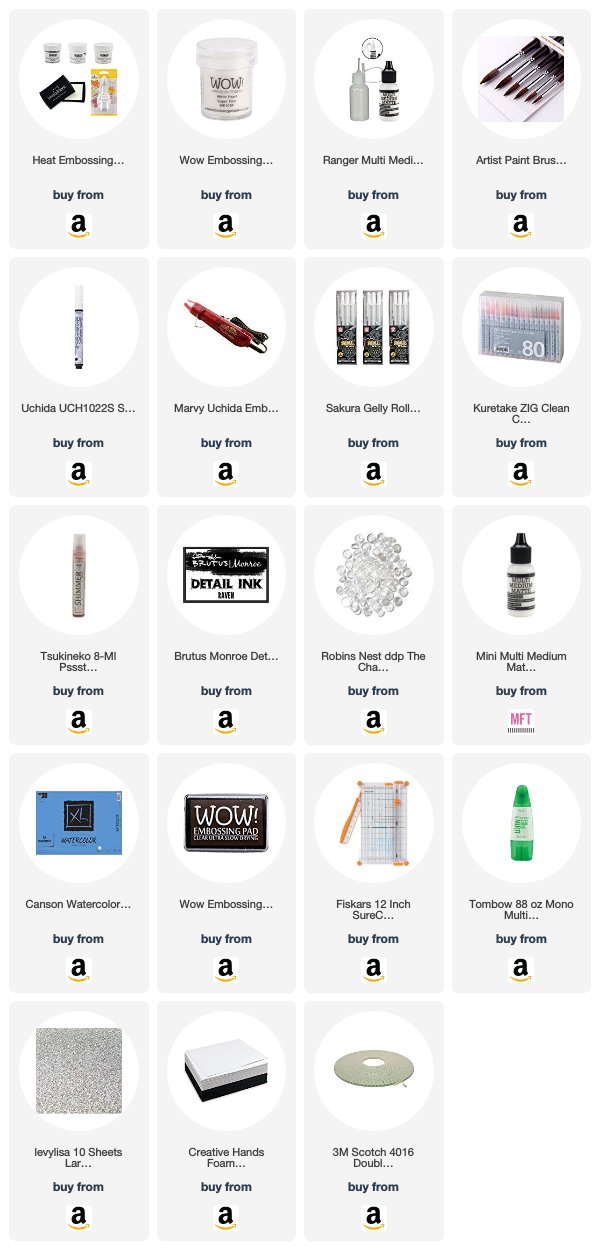 So it's been a long weekend of cleaning and organizing and this will be a busy holiday week.
Thank you for stopping by to visit!  I hope you have a productive day!