Sunny Studio Stamps had a really fun autumn release of stamps, dies and patterned papers.  I fell in love with the colors and the images and couldn't resist making a purchase.
I especially loved the little Beautiful Autumn stamp and die set.  One sentiment, 3 images and 3 small dies.
I challenged myself one afternoon to see how many different cards I could make using different techniques to create unique cards with the same little set.
I finished these cards over a week ago and I'm finally getting them posted!
Here is a close up of my favorite technique with this stamp and die set:  Partial Die Cutting
This is a fun technique and I've got a video almost finished to share with you.  (The beginning of the school year is so busy!)
I tried this with two different orientations.  I've used Sunny Studio Jewel Tones Dots & Stripes patterned papers here along with heat embossing using Rose Gold embossing powder and the Altenew Watercolors with a quick drop in technique.   The card on the left has a watercolor wash on the front just because I'm experimenting to see what I like.
I've used two different Rose Gold powders here.  The one on the left in from Gina K Designs and has a lot more of the Rose color than the gold.  The one on the left is from Altenew and has a lot more of the gold tone than the Rose.
I'm thinking that I need a swatch book page for embossing powders!
My next favorite technique is to create a background and only color in a couple of the images:
I really like this technique.  It's quick.  I used my Altenew Artist Markers and the Caramel Toffee Altenew ink pad to create a coordinating cardstock to stamp my sentiment and to give me a thin strip along the edge.  I've used more of that patterned paper that I'm loving so much from Sunny Studio's Autumn release.
My next favorite uses the popped up die cut sentiment:
Can you see the Greetings die cut?  It's a bit camouflaged here.  I like this technique, but I wish I had used a colored cardstock below the popped up sentiment so that it contrasted more.  It's still a clean and simple fall card and I like it.  Can you see the drop shadow giving this one layer some dimension?
The last two cards I'm not in love with:
I did some ink blending with my Catherine Pooler inks and used that as a back drop for a piece of craft card stock with the 3 images die cut out.  What I really don't like about this card is that I sponged some Over Coffee light brown ink on top and it's just looking old and tired.  I'm over the sponging technique for a while.  There was a time when I felt like it was right on trend, but this is not that time.
The card to the right did not photograph well.  I used a new product that I got in some Happy Mail from The Hedgehog Hollow.  I made a video of my last card kit and posted it and they sent me some happy mail that included a few Nuvo products that I've been dying to try and had not yet purchased.  One was the Nuvo Embellishment Mousse in Aloe Vera Metallic.
Here is a better view:
It's got a very pretty shine.  I kept this card simple because I was getting tired and hungry by this point, but could not resist trying this out.  I simply used my Ranger blending tool and added it like I was blending on ink.  What a pretty sheen this has!  The leaves are die cut from the ink blended cardstock as is the greeting die.  I actually used vanilla card stock here because I just happened to have a scrap piece on my desk all cut.  It was handy.
I'm thinking I'd like to try this product in some other colors.  They also sent me some Nuvo Red Carpet Glitter and Confetti and some Nuvo Seaweed Quartz Glimmer Paste.  I also received a small stamp set and die.  It was very generous happy mail!!  I'm saving the glitter, confetti and glimmer paste for some Christmas holiday goodies.  I love having the chance to try out new products that I have not played with before.  I'm going to try this mousse with a stencil and a spatula next to see how well that works and what it looks like on a project.
All in all, I had a fun afternoon playing around and challenging myself to see what I could come up with using only this small set of stamps and dies.
Here are some affiliate links for the supplies: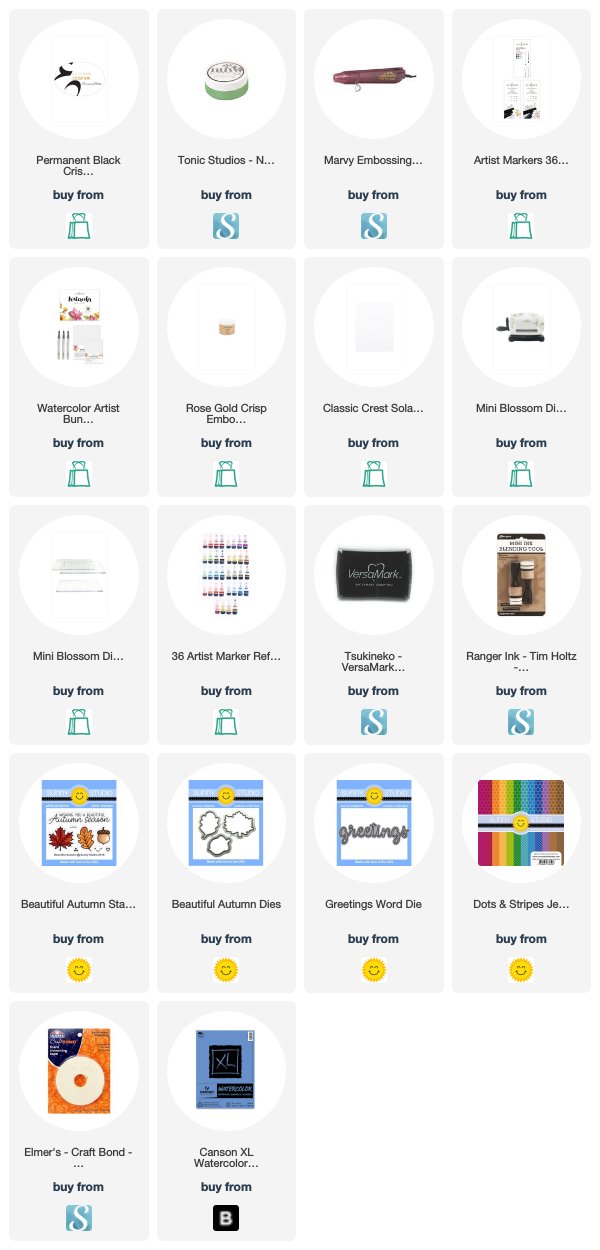 Thank you so much for stopping by. I hope you are having a relaxing, crafty day.