What's New With Me?
If you are a regular blog reader, you know that I have been a Stampin' Up! demonstrator for the last 6 years.  It has been a successful 6 years and I have loved every minute of it and I am grateful for all that Stampin' Up! has done for me.  That Rising Star award and the fabulous trip to Utah where I spent several days with so many wonderful Stampin' Up! people and I even had a fabulous lunch out with Shelli and Sarah, was amazing!
You also know that for the last year or so, I have been exploring what else is out there in the crafting industry.  I was curious about what I was missing by just limiting myself to Stampin' Up! products, which I love.
Well…once I started exploring, I found a whole new world of opportunities.  It has led me to make the difficult decision to leave Stampin' Up! so that I can pursue other opportunities in the big world of crafting.  It would be a violation of the demonstrator contract for me to link to other companies and their products.  I've so been enjoying the other tools that I've been creating with that I want to have the chance to share those with you as well.
For me, this means that I won't be selling anything and I won't have a store to direct you to.  I will link directly to the companies and products that I am using and you will order directly from them.  I feel relief that I won't be "selling" and maintaining a "store".  I also feel relief that I won't be required to build a team of demonstrators that I am responsible for.  This is just me doing my thing sharing what I am loving.
Alas, this is my hobby.  I have a full time job teaching high school physics and I love it.  I'm entering year 30 in two weeks when the school year starts.  That also means that in a little over a year, I will have the chance to pursue my hobby full time when I retire from teaching 2 years from now.  I decided that I wanted to spread my creative wings and pursue some of those new opportunities before I jump in and start doing this as a full time business.
So what can you expect from me?
I will be trying new products and continuing to explore new crafting techniques and working with new companies.  I will share the stuff that I'm loving with you and I will share the new techniques and tools that I think you might enjoy as well.
I will be working with other companies and I have created some affiliations.  (I have my affiliate link disclosure here for you to see.)
Here are some of the companies that I have fallen in love with:
Altenew
If you have not tried some of their layering stamp sets, you should try them.  They do the layering stamps like no one else.  This is a wonderful company and they have great sales and coupon codes.  They have a monthly release of new products and a lot of wonderfully talented and really nice people who started the company 4 years ago.  They have the Altenew Academy that offers classes online that I have loved.  I've taken every single one of them and I am participating in their Altenew Educator Academy.  They actually sent me a personalized stamp for their 4th anniversary just for being a customer!
The inks are amongst my favorites to use as are their alcohol Artist Markers and now the new Watercolor paints…I just can't say enough about how much fun I am having with all of these products.
Concord & 9th
Another favorite of mine is Concord & 9th.  My very favorite product is their Turnabout stamps.  I've done several blog posts using them and at least one video on YouTube.  They just rocked my world!
This is a really fun company that comes out with a new release every month on the 9th of the month.  I really like that the products that they come out with month after month are not the same old, same old.  It's just new and fresh.  This is on my LOVE list!  They also send free gifts on a fairly regular basis with qualifying orders.  I love free stuff and I especially love good free stuff like stamps and dies.  C9 sends good stuff.

Sunny Studio
Here is another fun stamp company.  Their stamps are not the usual florals.  They have cute critters and fabulous sentiment sets.  They also have gorgeous 6 x 6″ patterned papers and cute embellishments.  They also often include a little free die with every order.  Again…I love free goodies.  I also love their cute critters.  Their recent fall release was fantastic and I can't wait to play with it some more and start sharing it with you.
Waffle Flower Crafts
This company sends their stamps and dies in the most amazing storage sleeves.  They have a huge variety of stamps, dies and supplies of all kinds.  They have a section for Fun Finds that has actually got fun new products to try.  They have tutorials on their website as well.

Scrapbook.Com
The variety of companies and products carried by Scrapbooks.com makes it one you can't stop browsing through!  Their site is so easy to locate a specific company and find a product that you sometimes can't find anywhere else.  If you click on the Brands tap, you will see what I mean.  They have EVERYTHING papercrafting!
Gina K Designs
Have you tried Gina K's Wreath Builder yet?  What are you waiting for?  When I think of Gina K, I think beautiful florals with great sentiments and FOILS.  If you love shine and sparkle, adding foils is the way to go.  Gina K does the foils really well.  Her card kits are also fabulous and come in a sturdy plastic project case that makes them very portable.


Dick Blick Art Supplies
I was reluctant to shop at Blick Art Supplies because, well, they are art supplies.  I'm a crafter.  It turns out that Blick has great prices on a lot of craft supplies that I actually use.  They often have free shipping on qualified orders and they have a huge selection of all different levels of price ranges for supplies.  When I'm just starting to learn a new skill, I don't spend a lot on supplies until I know it's something I want to continue and then I will graduate to better supplies and products as my skill level increases.  Blick allows you to see what's out there and select your level. Now I feel like an artist. I'm that easy.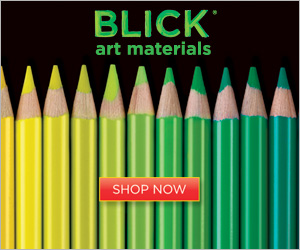 These are a few of the companies whose products I've fallen in love with and have been creating with over the last several months.  I have one or two more that I am hoping to add in the next couple of weeks.
I look forward to sharing lots of new creations with you!
Thank you for stopping by!