I love when I can use my crafting tools for more than just one purpose.  I was inspired yesterday when I found the Crop Stop October Linky Party and there was a wonderful blog post about making plaid backgrounds with your markers.
I have a set of Spectrum Noir markers that I've had for quite some time.  I purchased them a long time ago to do lettering, borders,  and doodles for scrapbooking.  They have not seen enough love from me over the years.  Once I joined Stampin' Up!, I felt it necessary to only use their stuff.  I felt like the rest of my craft supplies were essentially off limits.  In fact, you sign a contract that says you will not use competing products on your blog and social media while you are a demonstrator.
While I miss Stampin' Up!, I'm having a blast exploring all the goodies that I've been neglecting for 6 years. Hence, pulling out the Spectrum Noir markers to create this plaid background.
I actually used 4 different colors of markers on this plaid: a green, an orange, a brown and a red.
Most of the card was created with scraps and extras that I had piled on my table.  I had made the sentiment for a previous project and never used it and the pile of fall colored leaves were all left overs as well.
That made this a quick card to put together!
I love the sentiment.  This came from The Hedgehog Hollow October kit and the leaf die cuts are from a die set from the October Brutus Monroe kit.  You know I love my card kits.
The sequins are a Festive Fall Sequins Mix from Neat & Tangled.  Pretty!!!
I've created a video to show you how I made the plaid:

Supply List
Are you interested in the products I used?  To make them easier for you to find, I have linked them below. (Affiliate disclosure ) Your purchases help keep my blog running at no additional cost to you and I thank you for the support!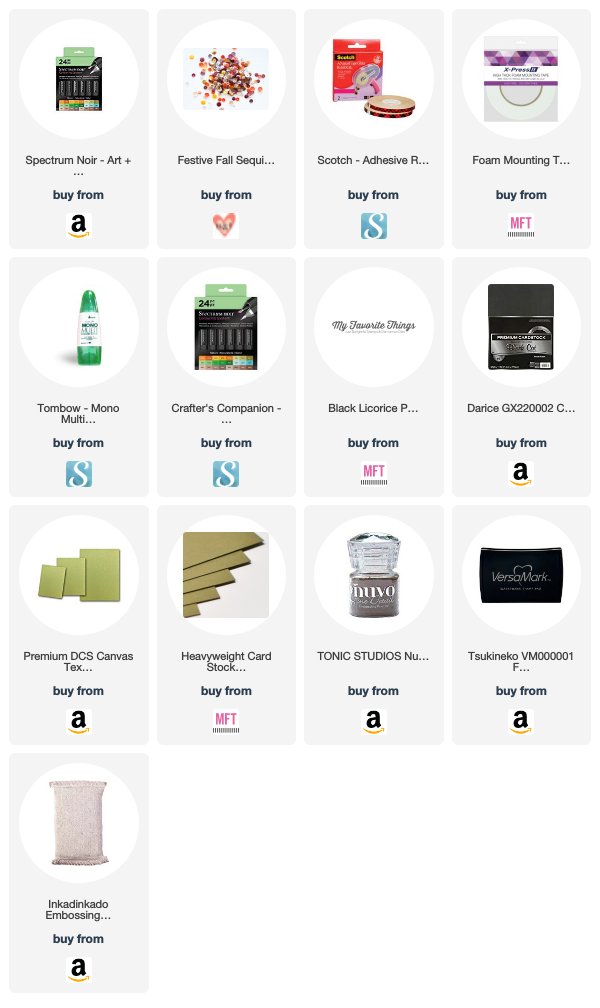 Thank you so much for stopping by!  Have a great day!