Thank you for joining me today on World Card Making Day!
I'm celebrating by crafting all day and sharing my creations on YouTube and my blog!  I'm delighted that you are joining me.  I'm also celebrating by participating in some challenges today at The Flower Challenge.  They are celebrating their second birthday and the challenge is to use florals with sparkle.  (I went with shiny because I do love bling!)
I started this card on Thursday, but ran out of time to finish it. I thought I would finish it yesterday, but it was First Friday here in our beautiful hometown of Greenport, NY.  Tourist season is mostly over, although the farm stands have fall festivals and people go crazy over those pumpkins.  In our little town, on the first Friday of every month we have a gallery walk.  I love gallery walks!  Our town dates back to the days of early settlers and it has a rich and interesting maritime history.  The town has a bakery, a bookstore, a maritime museum, a train station, wineries, a brewery, lots of antique stores, boutiques, wonderful restaurants, and art galleries.  There is an old blacksmith shop that operates on weekends in season, a little red school house and a little jail!  There is so much more, but as you can see, it is a fabulous little town.  My husband and I went on the gallery walk and I admired some stunning photography, paintings, drawings…you name it.  We had a wonderful dinner at a new place we had not yet tried and had a very pleasant evening.
Alas, I didn't finish  my card until today!
I was trying a new watercolor technique with the Ranger Distress markers.  I colored along the embossed lines and then used a wet paint brush to pull the color out into the larger part of each petal and leaf.
This is Altenew's Forever and Always coordinating stamp and die set, along with Altenew's Antique Gold Embossing Powder.
The sentiment came from one of my favorite and most used Altenew stamp and die sets called Peony Spray.
I just finished the Color Theory class taught by Debby Hughes, so I was employing some of her lessons into my color choices here.  
This is the first time I used the Antique Gold embossing powder from Altenew.  Look at the shine and sparkle you get from it!!  You can see the detail in the tiny sentiment, so it really embossed beautifully.
Here is the challenge link to The Flower Challenge:
I've created a video for you to see the technique that I used and you will find the supply list below:

Here are my affiliate links for the supplies that I used:
Are you interested in the products I used?  To make them easier for you to find, I have linked them below. (Affiliate disclosure ) Your purchases help keep my blog running at no additional cost to you and I thank you for the support!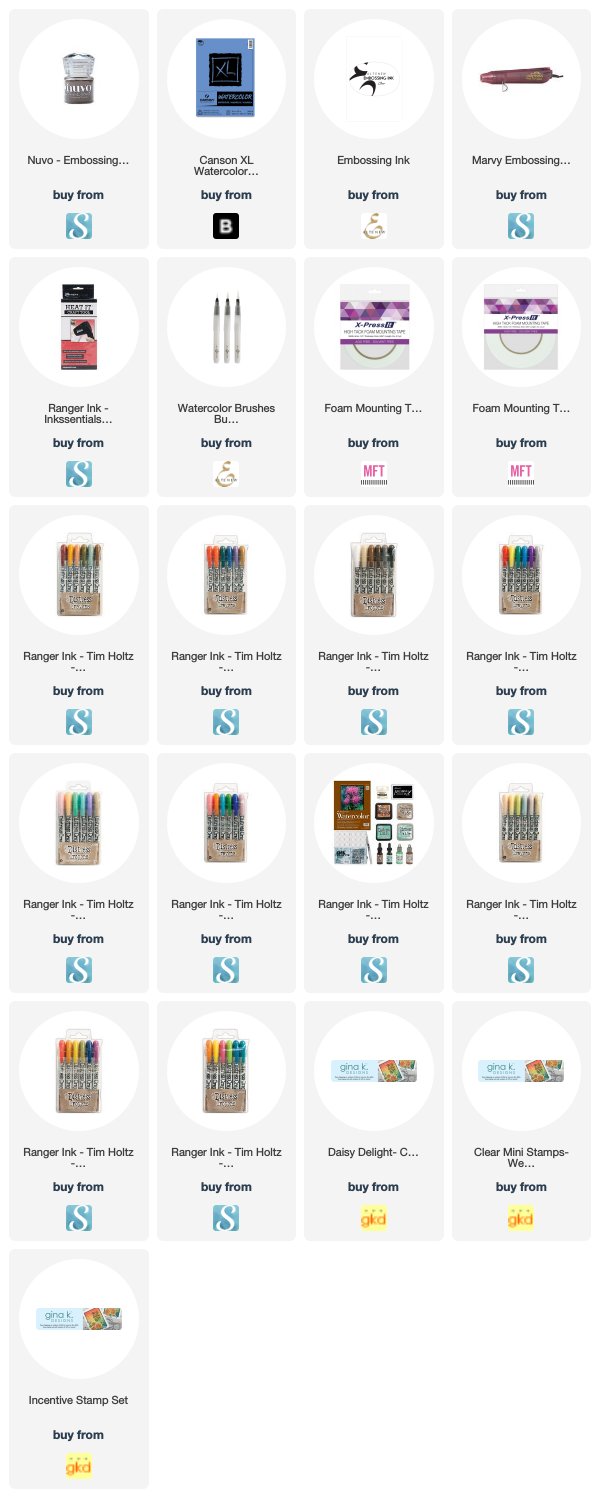 Thank you for stopping by!!  Happy World Card Making Day!