I really admire Debby Hughes and her amazing watercoloring skills.  I've been following her for years and I've take a couple classes with her as well.
I know that she has really put the time in to practicing and developing her skills as an artist and a colorist.  She is a really amazing designer!
The new Scrapping4Fun Challenge is an Anything Goes challenge and the theme is to CASE (Copy and Share Everything) an Artist that we are inspired by.  Of course I just had to give some of Debby's techniques a try after watching her latest video.
Debby just released a video sharing the Riley & Company Stamptember collaboration stamp set from Simon Says Stamp.
It was AMAZING.  Her project was so gorgeous.  I love to watch her watercolor because she just makes it seem so easy.
She's also the QUEEN of splatter.  Her projects have a very distinct style and feel to them.
I decided to give her techniques a try and create a project of my own using some of the ideas that I got from her video.
I cut this watercolor paper to 6 x 6″ and stamped this Teamwork image from the Colorado Craft Company in Altenew Permanent Black Ink.
This is an Anita Jeram design and I love her style of stamps and her style of coloring.  I took a class from Daniel West and he showed how to use Copic markers in the Anita Jeram illustrative style of coloring.  I've combined what I learned from his class with what I got from Debby's video.
I started with the background.  I kept the background very wet as I added a nice bright dark blue watercolor paint so that it was darker toward the bottom of the sky and along the sides.  I left lots of almost white space around the little scene created by this one large stamp.
I added some light gray and light lavender to the snow and then colored the critters and snowmen in the illustrative style that I've been playing with the last few weeks.
It was fun to try this with watercolors.  I let the piece dry and then I ran it through my laminator to flatten it and make sure it was very dry.
Then I used some Chipped Sapphire and Black Soot distress oxides to darken the sides and top of my sky.  I added some Snowflake Paste with a snowfall stencil from Sassy & Crafty.  I finished it off with some white gouache splatter. I masked my image to do all of the background watercoloring, ink blending, snowflake paste, and splatter.
I did not add a sentiment.  I think that I'm going to frame this and use it as a gift toward the holidays for someone.
I'm no Debby Hughes, but I really like how this turned out.  I applied a lot of things that I learned from both Daniel and Debby in a new way.  Plus I made this my own by using the tools that I have including that fabulous stamp set.
I didn't need to use exactly what Debby used.  She used a stamp that was essentially a full scene.  That's what I did here using this single stamp that creates an entire scene.  All it needed was the background.  I followed Debby's technique for the background and Daniel's technique to color in the critters with watercolors instead of Copics.
It was fun to give this a try and to stretch my own watercoloring skills to try something new.  I would not have thought of this had I not seen Debby's gorgeous card.  You can check out here work HERE.
Supply List:
Are you interested in the products I used?  To make them easier for you to find, I have linked them below. (Affiliate disclosure ) As an Amazon Associate I earn from qualifying purchases.  Your purchases help keep my blog running at no additional cost to you and I thank you for the support!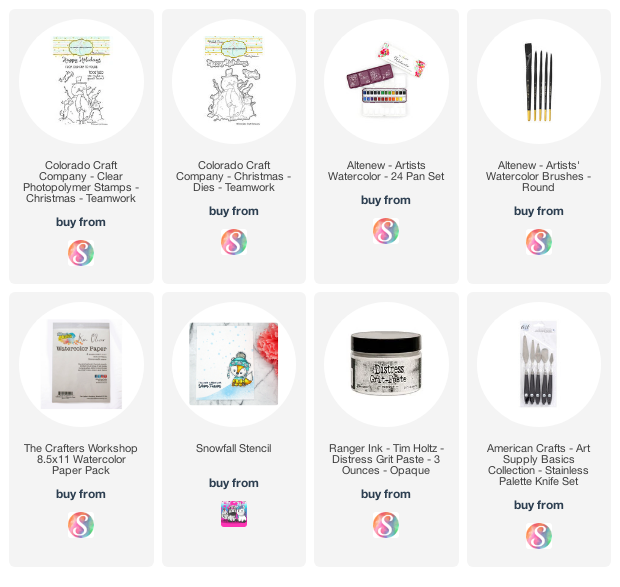 Thank you for dropping in today!  Leave me a comment and let me know what artist inspires you!