The very first scrapbook layout challenge for the Challenge YOUrself blog is to create a layout for you favorite memory from 2020.
The Challenge YOUrself blog is a monthly scrapbook layout challenge that has a different theme or layout challenge each month.  There is one important rule: YOU need to be in the photo on the layout!
I'm not in a lot of photos in my photo box, so I have been taking new photos each month so that I show up in future albums!
My favorite memory for 2020 was the moment we pulled up to our new house in Florida for the first time last January.  It took 12 years for us to finally build the house after we purchased the land, 11 months for the house to be completed because the project manager retired part of the way through the project and our house slipped through the cracks in the process.  It also took me a few extra weeks to convince my husband to officially retire!  We didn't even have the keys in our hand when we pulled up to the house!  They were left on the step for us.  It was an exciting moment because we were realizing a dream that we had been working toward for 12 years.
I haven't added the journaling yet, but I added labels where the journaling will go.  I snapped a picture just as we got to the point where we could see our new home and as we were pulling into the driveway.  I included a picture of the 2 of us so you can see our happily retired faces!
Change is scary and I think leaving your lifelong career is one of the scariest things to do.  Moving to an entirely new state is another big change.
I used some products that I got from one of the December daily sales that included the Simple Stories Hello Today collection kit.  I got some freebies with my purchase and of course, everything was on sale!  I purchased this set because it is going to be a great way to document my year.  I am doing the One Little Word challenge again with Ali Edwards.  I enjoyed it last year and I am looking forward to doing it again.  I actually filled 3 scrapbooks with all my work last year!  I documented new memories and lots of old ones too.
This set came with some great foam thicker phrases that will make awesome titles.  It had bits and pieces ephemera, stickers, tags and labels, enamel pieces, enamel dots, washi tape, puffy sticker,  a sticker book…the list goes on.  I will actually have a themed book by the end of the year!
I thought "Hello" was a great title.  It was hello to many things for us last year and we've settled in to an entirely new way of life.
You can see some of the great ephemera pieces here with enamel dots and a puffy heart sticker.  I LOVE the papers in the collection and actually chose 4 of the 6 x 8″ papers to use on this page.
My page base is a bright amber yellow piece of Bazzille card stock from the Hip Kit Club.  I decided to keep trying the Hip Kit Club and some of their addons for a couple of months to see how I like it. 
I love the ephemera in this collection!  The phrases are amazing and there were lots of little journaling bits to choose from as well.  I also love that it is colorful, but not blindingly so.
Of course I had to use some of the Washi tape on my page.  There are 3 rolls that coordinate with some of the papers and I love them.
I used the amber yellow as a base, but added a piece of white cardstock that I trimmed to 10 x 10″ just to tone it down and act as the base for my layout. I trimmed down the 4 pieces of patterned paper and placed them in an overlapping fashion.  That's one of my go to layout styles.  I love overlapping patterned papers.  There is something so pleasing about randomly placed paper and the geometric feel that it gives me.
I'm also working on using 3 ephemera clusters to draw your eye around the page.  I lengthened the top cluster to draw your eye to the title as well.
Video Tutorial:
Supply List:
Are you interested in the products I used?  To make them easier for you to find, I have linked them below. (Affiliate disclosure ) As an Amazon Associate I earn from qualifying purchases.  Your purchases help keep my blog running at no additional cost to you and I thank you for the support!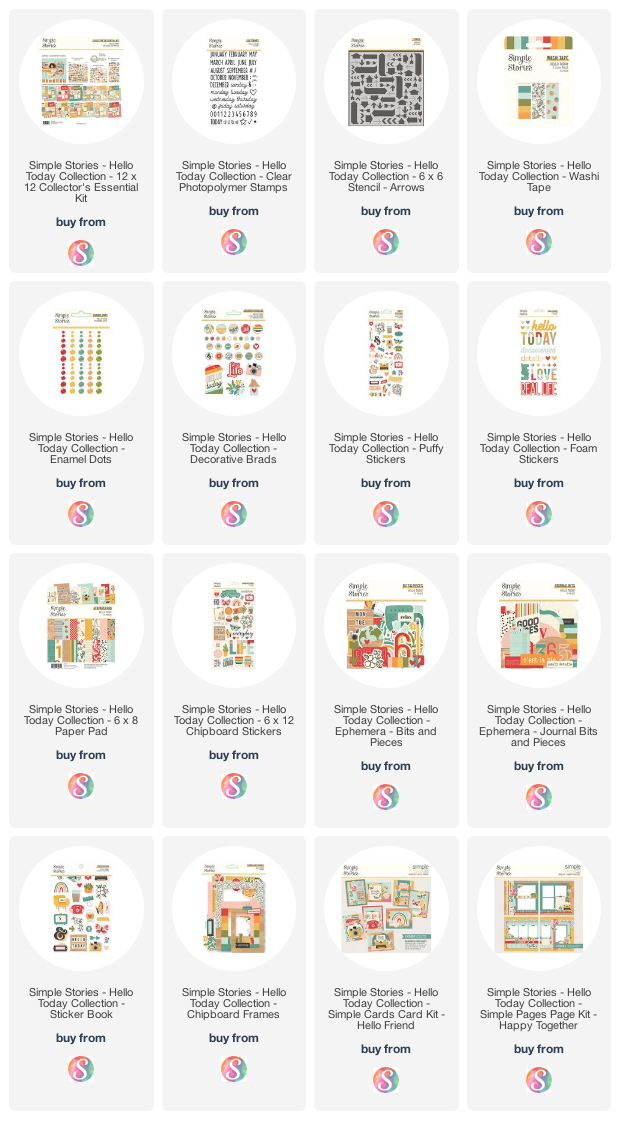 Thank you so much for stopping by!  I loved having the chance to think about all the good things that happened during the chaos of 2020.  It helped me realize that there is a light at the end of the tunnel friends!
Be well!!