Do you love free things?  I love free things.  Last weekend, Whimsy Stamps had a Virtual Stamping Weekend on Facebook because they had to cancel their actual live event that was scheduled due to a pandemic.  It was a lovely weekend with lots of videos, live videos and chats, lots of games and contests, challenges, and freebies!
Keep your eyes out for more stamp companies doing this sort of thing.  So much has been canceled these last few months and we are all missing out on these big events we look forward to.  Companies and designers are stepping up and having virtual online events that are, quite frankly, less of a hassle to attend!
I didn't have to drive anywhere and cart a bunch of stuff with me.  I didn't have to pay for a hotel or travel expenses, and I didn't have to make a lot of small talk with people I don't know.  I'm terrible at that.  I'm an introvert by nature, so online events where I can chat and ask questions is my thing!
One of the freebies they gave out was a Toucan Surf stamp that was a lot of fun to play with.  Several members of the design team shared either a video or PDF of their cards and I got several Copic coloring tips that I found useful.
I have a version of this to share with you using this week's Atlantic Hearts Sketch Challenge for my layout:
How cute is that little toucan?  I added the sand and the sky using my copics and then I cut down the image with a rounded square stamp from one of my Elizabeth Crafts planner die sets.  I added lots of layers.  I used some of my favorite Sunny Studio Stamps patterned papers.  I figured the yellow stripes perfectly represented the sunshine and the pastel blue polka dots perfectly represented they sky or water.
The sentiment was included with the image.  This was just one of at least 5 or 6 free digital images that they provided along with several PDF tutorials and several video tutorials.  The videos are still available on their Facebook page, but the links to the freebies are not.  You can purchase this in their store and I will provide that link below.
I posted this event on my Facebook page.  If I see more of these, I will continue to post them to my Facebook page which you can find HERE.
Make sure you give my Facebook page a LIKE while you are there.  I share all the freebie information that I can find.  You can find a whole file of digital Freebie images at the Kinda Cute by Patricia Alvarez Group page.  You have to join the group (just click join), and then click photos to the left and then albums above the photos and you will see a file of digital images that Patricia has there for group members personal use.  They are perfect for printing and practicing your coloring.
I think this is a great image for someone who loves to surf or do other water related activities.  It's perfect for male or females!
The layout I used is from this week's Atlantic Hearts Sketch Challenge:
Cute sketch!  I love that the focal point is off center.  I find that very appealing and interesting to look at.
I love this colorful toucan with the bright patterned papers and the black background.  It was fun to color and didn't take long.  An image is always easier if there are no pleats or hair!
Supply List:
Are you interested in the products I used?  To make them easier for you to find, I have linked them below. (Affiliate disclosure ) Your purchases help keep my blog running at no additional cost to you and I thank you for the support!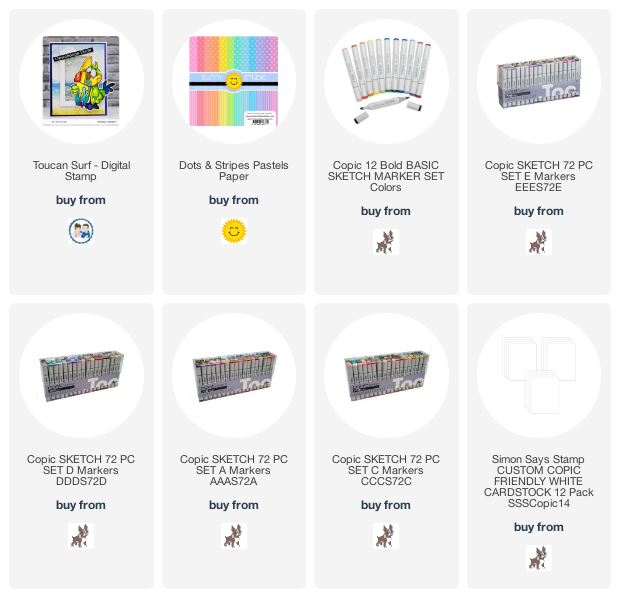 I hope you enjoyed the project that I shared today.  If you haven't tried an online virtual crafting event, you should give it a try.  It's like crafting with friends.  It's even more fun if you play along and create the project along with the presenter.  Vicki Boutin will have her Facebook Live tomorrow (Wednesday), around 3 or 3:30.  She always gives you lots of great information and her Facebook group is very active.  Check it out!
Be well and have a creative day!