Sometimes it is a nice thing to give your envelopes some love and coordinate them with your card.
I just finished taking a holiday envelope class at Altenew Academy and I really enjoyed it.  I thought the ideas were fun and there was at least one project that is a perfect holiday idea that I plan to implement with my family.
The Altenew Academy classes are great.  They are less than $10 and you get a ton of ideas and tips that you can use with products you have in your stash right now!
Check out my interpretation of some of the ideas that I got from the class:
They are all created in different ways and they will all add a special touch to the cards that I send.
They also all have pretty paper liners!
Aren't these paper pretty?  They are from the Celebrations Paper Set from Altenew. You get 24 double sided patterned papers that are 6 x6″.  I LOVE this size of patterned paper.  I almost never buy 12 x 12″ papers anymore.  These smaller paper stacks actually get used in my stash.  They are perfect for lining envelopes!
The first envelope that I created is meant to coordinate with the Modern Deer card I made a couple of days ago.  You can see that here if you missed it.
For this envelope, I die cut the two deer from Altenew's Modern Deer dies and Inkadinkadoo's masking paper.  I masked the deer images and used Pure White and Antique Silver Altenew Ink Sprays to create the falling snow background and the silhouette images of the deer.
The Peace sentiment is created from some free Puffy Letter sticker sheets I got from my last Altenew order.  They were included as a freebie with my order.
Today's freebie is a set of collector post cards!
I added some details with the top layering stamp and a white gel pen.  The liner paper was selected and cut with the Altenew Envelope Liner Die.  The envelopes and the liner die set came as a bundle on sale from Altenew.
My second envelope is a fall one:
I used the With Gratitude stamp and die set.  I die cut the leaves by placing the dies inside the envelope with the cutting edge toward the front so only the front of the envelope had leaves cut out.  Once I added the liner from the same paper stack, the pretty pattern showed through!  I added a sentiment stamped in the Altenew Espresso crisp dye ink and then added Altenew Antique Gold ink spray for a finishing touch.  I will use the two leaves that I die cut from the envelope to finish off the inside of the card to match.
My final envelope is a celebration one:
This card used an image and a sentiment from the Altenew Kind Words stamp set.  I heat embossed it in the Antique Silver embossing powder and I love the way it looks.  (My daughter is getting this one.  She just won an Honorable Mention for a big engineering award.)  I also used a die from the envelope liner die set to cut out the stars on the envelope flap.  Notice how beautifully the liner paper shows through the die cut spaces!
What a fun touch!
This was a fun class and I have a lot more ideas that I will take away from the class.  This gives me more ways to stretch my stash and use my tools and supplies in a new way.  These ideas are perfect for those patterned papers just sitting on the shelf!
Here is a video tutorial for the envelopes:
Supply List
Are you interested in the products I used?  To make them easier for you to find, I have linked them below. (Affiliate disclosure ) Your purchases help keep my blog running at no additional cost to you and I thank you for the support!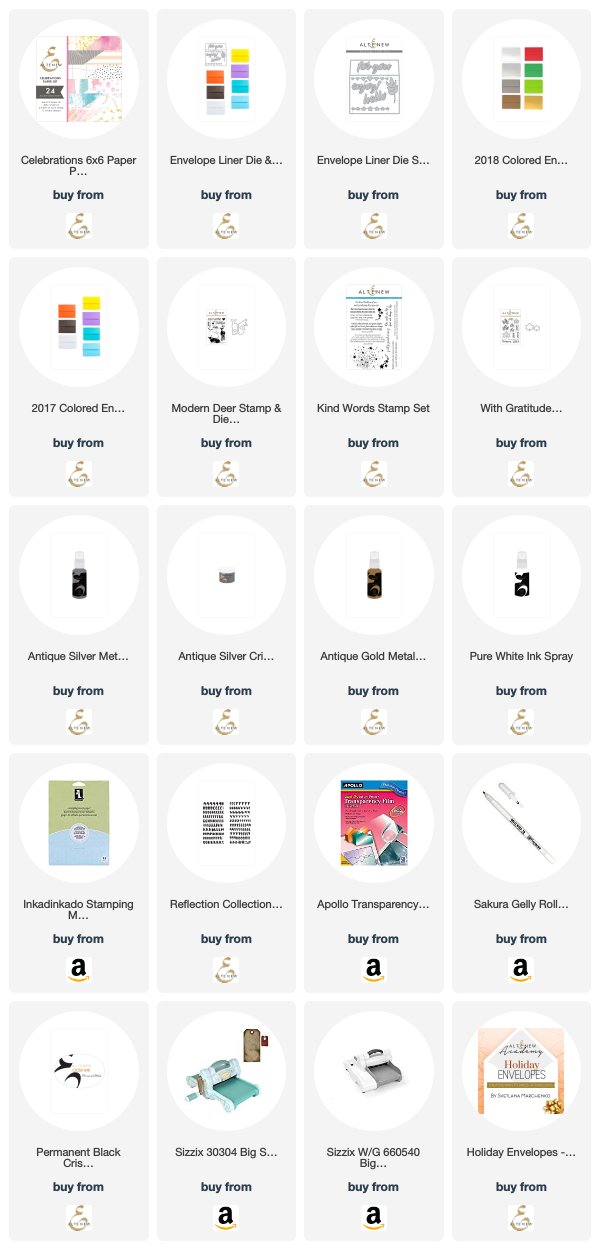 Thank you for stopping by today!  I hope you are inspired to show your envelopes some love!