My son and I used to browse the card isles of a couple local stores while we were waiting for my daughter during her afterschool sports practice.  We really enjoyed finding cards to make each other laugh.  I learned that we had very similar quirky humor as we laughed on those afternoons.
I also noticed that the cards that caught my attention always had a metallic element or some kind of sparkle.
Those were also the most expensive cards…go figure!
Have you noticed this too?  Browsing through the store card selection allowed me to see that the shiny elements were always saved for the special occasion cards…or moms.  The ballerinas always got the sparkle!
The card that I created for this week's Atlantic Hearts Sketch Challenge uses a fabulous piece of Kaisercraft 6 x 6″ patterned paper that came in my January Simon Says Stamps card kit.  The stunning tone-on-tone foiled swirls really made me gasp!
I just love the color and that darker tone for the foil swirls is stunning.
The floral element and sentiment came from Altenew's Classic Beauty stamp and die set.  What a wonderful sentiment for someone to receive on any day of the week!
I used the sketch for this week's Atlantic Hearts Sketch Challenge.
I contemplated not using patterned paper and instead using an embossed background or some kind of background technique.  I had not had the time to play with my January SSS card kit with the move and chaos that always goes along with that.  When I peaked inside and saw the papers…I couldn't resist!
I also couldn't let the pieces that I trimmed off for my card go to waste either.  I ended up making a second card with a yellow flower.  My mother is getting this one!
For a final touch, I added some linen thread since that is the only ribbon I had.  Finally, I added some Studio Katia clear drops.  These are by far my favorite embellishment.  LOVE them!
This sketch is fabulous.  I'm adding it to my digital sketch file for inspiration in the future.  I love this sketch.
This is why we never throw away our card scraps!  Do you keep all of your scraps like I do?  I have a plastic container that I keep them in.  These scraps didn't even make it to the container!
I've also been making an effort to send the cards out as I make them so people actually get to enjoy them.  I'm thinking that my sister will get the card with the purple flower.
Card Recipe:
Card Bases:  Neenah Solar White 90# cut at 5-1/2 x 8-1/2″, scored at 4-1/4″
Patterned Paper: Kaisercraft patterned paper cut at 4-1/4 x 5-1/2″ for card 1 and the scraps 1-3/4 x 5-1/2″ and 1/2 x 5-1/2″ for card 2.
Sentiment: Altenew Classic Beauty stamp set, Altenew Obsidian Black detail ink, and white scrap card stock cut 1-1/4 x 2-1/2″.
Floral Element: Scrap white card stock, We R Memory Keeper's Mini Die Cut Machine, Altenew Classic Beauty stamp and die set.
Inks:  Flower 1 (Purple) Altenew Shades of Purple including Midnight Violet, Deep Iris, Lavender Fields, Soft Lilac.  Flower 2 (Yellow) Altenew Pocketful of Sunshine including Honey Drizzle, Maple Yellow, Fresh Lemon, and Citrus Burst
Embellishments: Studio Katia Clear Bubbles Mix 2, Linen Thread
Supply List:
Are you interested in the products I used? To make them easier for you to find, I have linked them below. (Affiliate disclosure ) Your purchases help keep my blog running at no additional cost to you and I thank you for the support!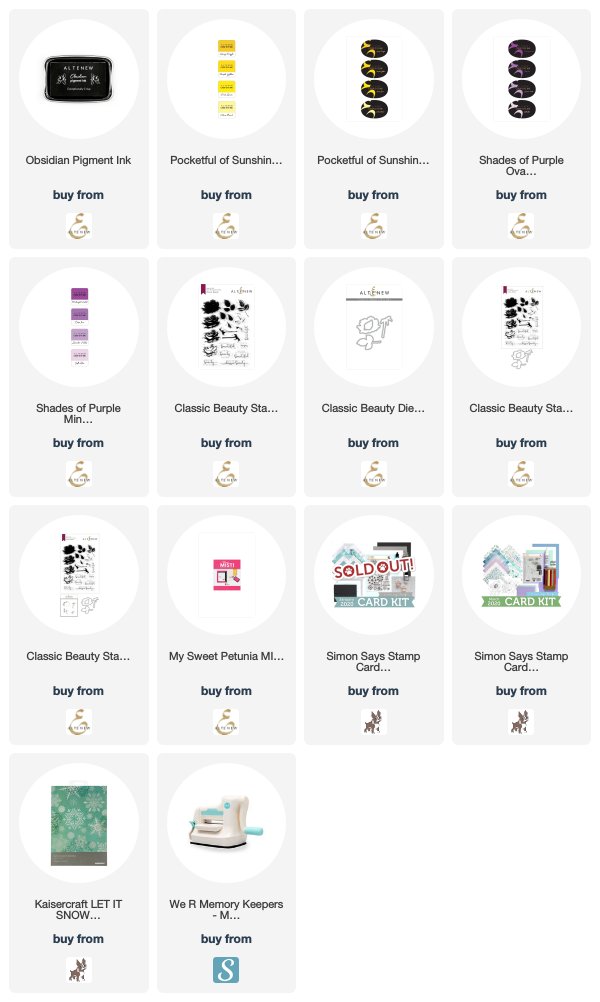 Thank you so much for stopping by today! I would love to hear what you think of the cards. Please leave a comment below!