Vicki Boutin's Friday Live was ridiculously fun!  We did a bubble blowing technique to create surprisingly pretty backgrounds.
We mixed some water, dish soap, and acrylic paint in a cup and then used a straw to blow bubbles.  We used a piece of cardstock to blot the bubbles when they welled up over the top or a palette knife to scoop them on to the paper.
Why did my elementary art teacher never teach us this?  I could have been creating these my entire life!
Here is my final piece after I kicked it up a couple of notches adding other techniques on top of the bubble background:
I love this!  It was so much fun to create this background.  I used a ultramarine blue, a bright pink, and a aqua acrylic paint.  I've made several backgrounds and this was my least favorite one I made Friday night because it had a big solid blob in that upper left corner.
I pulled out my script Stencil Girl stencil and used the Blueprint Sketch Distress Oxide ink with a blending foam over the top of that blob and along the entire left side of the background.
On top of that, I added some paint splatters in bright pink and then I stamped those peony florals in Catherine Pooler's Midnight Black ink.
The stamp set is from the Rabbit Hole Designs Pretty in Peony stamp set and I really love it.
I let the entire thing dry over night and then I pulled out my Altenew watercolor set and watercolored in those blooms.  Watercoloring those blooms took the entire piece from pretty to WOW!
I just used a regular piece of 110# Neenah white cardstock.  The bubble technique didn't add too much water, although the panel is still warped and I will put it under a few books to flatten it out.
I like this so much that I might actually frame it!  I'm thinking about adding a pretty quote to the center of the right side and then putting it in a mat and frame.
I want to add some of my own art to my little Florida cottage and I think that this would be pretty.
I like framing my own stuff because when I get tired of it, I can change out with a new creation.  I never have to feel guilty about that!
I'm going to step up the rest of the backgrounds I created on Friday and create an art journal out of them.  I've been watching book binding videos and I found a couple of techniques that I want to try.
Another fun Friday night creating along with Vicki Boutin on her Facebook page!  I'm learning so much and she is freely giving her time to teach everyone who joins her.  She really makes you realize that you can do all the mixed media things and that you need to experiment and just try all the things.  It's been a real morale booster for me after retiring and leaving a career that I love.  I didn't miss it quite as much as I expected because I was just keeping busy doing all the things!
Supply List:
Are you interested in the products I used?  To make them easier for you to find, I have linked them below. (Affiliate disclosure ) Your purchases help keep my blog running at no additional cost to you and I thank you for the support!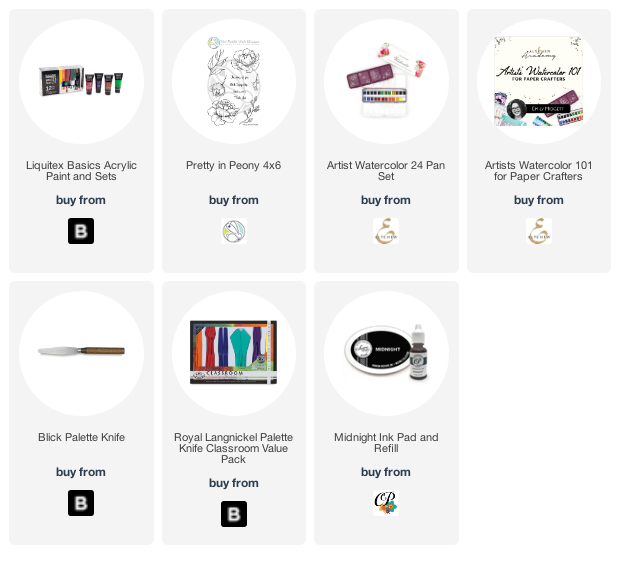 Just a quick fun share today.  Sometimes we don't need to make a card or anything specific.  Sometimes crafting and art really is all about just playing and experimenting…and enjoying some creative time!
Be well my friend!