The new Make The Cards Challenge for this week is a color challenge!
I love this color palette.  There are just some color combinations that make my heart sing and this is one of them.  Plus, it was labeled as Citrus, so I went in search of a fruit stamp set.
I knew I had at least one, if not multiple stamp sets that are all about fruit.  I found a very cute Sunny Studios called Fruit Cocktail stamps and this is a layering set.
This is such a perfect stamp set and challenge for the approach of summer!
I pulled out my Catherine Pooler inks and just stared playing with different combinations.
Apple: Rouge, Rockin' Red, Cranberry Fizz
Peach: Catching Rays, Tiki Torch, Tutti Fruiti
Pear: Catching Rays, Sauna, Limoncello
Leaves: Sage, Spruce
The apple lined up perfectly, but I had a bit of a challenge with that peach!  The pear wasn't too bad and the leaves were easy!
There are lots of sentiments in this set that can be combined in a variety of was since each word is a separate stamp.  I kind of like that, although I did fuss with lining it up for a bit.
I added some nice Nuvo drops to finish off the card and a gray drop shadow in Copics W5, 2, 0.
I kept this as a nice simple single layer card that has a still life picture feel to it.  For some reason, I just found that appealing today!
We would LOVE to have you create a card and share it with us. You don't need a blog, just post it to your Instagram or Facebook page and link it to our challenge blog.  I promise that we will leave you some comment love!
Supply List:
Are you interested in the products I used?  To make them easier for you to find, I have linked them below. (Affiliate disclosure ) As an Amazon Associate I earn from qualifying purchases.  Your purchases help keep my blog running at no additional cost to you and I thank you for the support!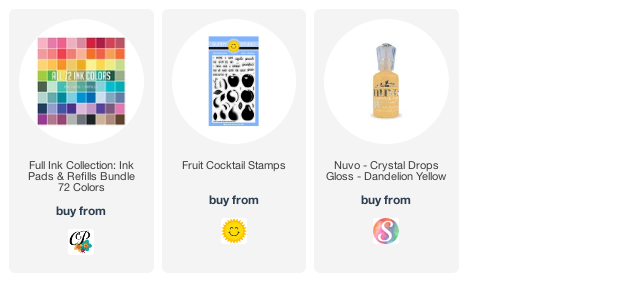 Thank you for stopping by friends!!  Have a creative day!