I've been getting the Not 2 Shabby subscription kit for several months now.  I LOVE monthly kits.  This one is always a fun one.
This month's kit contained 3 stamp sets, 2 paper pads, and 2 sets of ephemera.  I also received a free package of coordinating sequins, a lolipop, and a coupon code to use this month.
As soon as I get these kits, I always create a scrapbook layout.
I found some old pictures of my dad from a visit in 1989 that I had not yet scrapped.  These were the perfect photos for a fall layout!
The pretty papers and coordinating ephemera in the kits always makes me want to create scrapbook layouts.  I don't love using the ephemera on cards.  I prefer to stamp my cards and create my own die cuts to decorate my cards.
I love using the ephemera on my scrapbook layouts and in my traveler's notebook layouts.  It's always so pretty.  It is high quality paper and ephemera pieces.  Plus, you get plenty of both so you can create a lot of unique layouts and other projects with the kits.
I used some of the paper to create a band of pattern across my layout base.  I also used some to create mats behind my photos.
You can see that I created a diagonal with my photos and then added this gorgeous ephemera in a diagonal pattern as well.
I added a few ephemera pieces in the opposite upper corner to balance the layout.  I also pulled some puffy phrases stickers out of my stash.  This gave me an easy title.  These are the Keeping It Real puffy phrase stickers from Pink Fresh.
I added some puffy gold hearts and dots from my stash and some gold splatter.  The gold splatter really mimicked the faux gold splatter in the patterned paper.
A few details that included the date, the people, and the location finished off the page.
I created a sketch to share with you.  Feel free to pin this on your Pinterest boards!!
Video:
Supply List:
Are you interested in the products I used?  To make them easier for you to find, I have linked them below. (Affiliate disclosure ) As an Amazon Associate I earn from qualifying purchases.  Your purchases help keep my blog running at no additional cost to you and I thank you for the support!
You can find the kits by clicking here: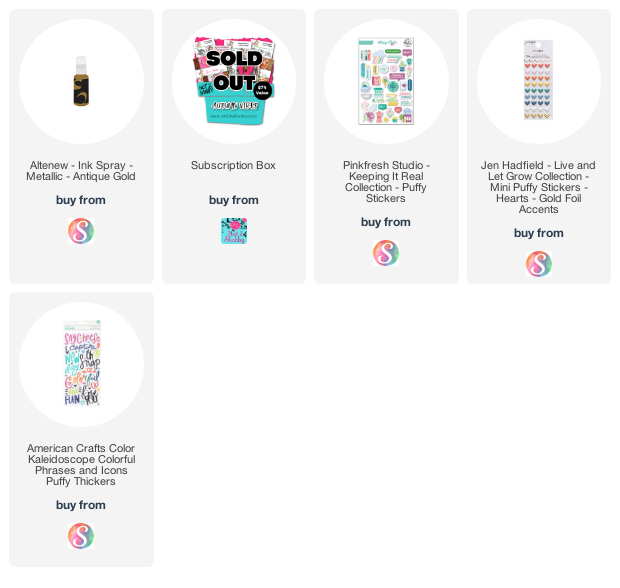 Thank you for dropping in today!  I hope you find time to create today!