I decided to participate in this week's Less Is More challenge.  It's a clean and simple challenge and this week the theme said Recipe Dimension.
I interpreted that to mean that I was to use a recipe card sized layout.
I created a beautiful card that did just that.  But make sure you compare it to the bottom card to see the difference in dimension between the two.  The last card is my challenge card…done for the correct interpretation of this challenge!
I used a Reverse Masking Technique along with some watercoloring with inks to create this card on a 3-1/2 x 5″ note card.  That's right. Recipe card sized.
I even made a coordinating envelope!
Well…they meant that this is a Recipe Challenge and the challenge is to create dimension on a single layer clean and simple card without actually adding layers.
You've seen me do this before with the leaf card.  If you missed it, you can see the details here.
Just one layer.  All the dimension is fake.  Yep. I faked it.
So I recreated my songbird card and created some Faux Dimension with the drop shadow.
That's what they meant!  This is one single layer of card with no embellishments and no other pieces of cardstock.  Not a smidgen of sequins or foam tape any place on this card.
I still used a reverse masking technique to create a spotlight circle for my image.  I used a piece of masking paper the size of the card front with a circle die from the Concord & 9th All Seasons Dies set.  I blended in some Old Paper Distress Oxide Ink and then stamped my image with some Carmel Hybrid ink from Scrapbook.com.  Then I watercolored with Catherine Pooler inks in Sauna, Icing on the Cake, Sand Castle, Eucalyptus, and Mandarin Spice.
I created a faux piece of black card stock by coloring a strip of black with my black alcohol marker and added a drop shadow with my gray marker.  The sentiment is heat embossed on top of the marker  in white embossing powder.  I added a second sentiment with a drop shadow below.  I also added a drop shadow to the circle, under the bird and the branches.  Finally, for a little pop of color, I added the leaf image with a drop shadow as well.  All the images and the sentiments are from Concord & 9th's Songbird Stamp Set.  I did add a few highlights on the beak, the eye and the underside of the bird with a white gel pen.
I was dying to add some black splotches and some sequins to the card, but that would violate the rules.  No embellishments and it should be minimal layers. This has no layers.  It is all ink.
Here is the challenge that I am entering this last card in:
Not recipe card dimension, it is Recipe: Dimension.  As in, faux dimension!
Duh on my part!!
Supply List
Are you interested in the products I used?  To make them easier for you to find, I have linked them below. (Affiliate disclosure ) Your purchases help keep my blog running at no additional cost to you and I thank you for the support!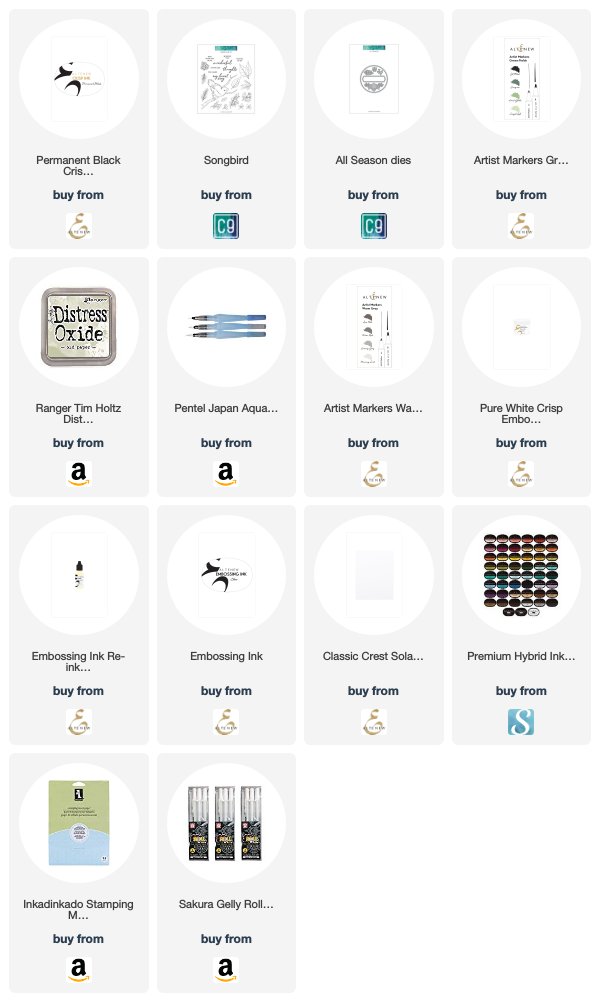 Thank you for stopping by!