Nuvo makes glow in the dark drops!  I actually got a full size sample in one of my card kit subscriptions this month.  I finally mastered the trick of how to use them to get a nice round drop and not a hot mess.  Yes, there is a trick to it!
I started subscribing to Brutus Monroe's Stamp-of-the-Month subscription.  For $5, you get a fun little stamp and sentiment each month.  It's always a fun surprise.  This month it was a vampire candy corn!  The artwork is very artsy or graphic in style and I really like the stamps.
Check out the cute little tag that I made:
Isn't it cute?!
I'm still working on my Copic coloring techniques and I'm in the experimental stage.  I have very few of the Copic markers until I decide if this is a skill I want to really master.  I've taken a couple of free classes and I finally decided it was time to upgrade and pay for a class.  The instructor is excellent and I'm really enjoying it.  I may end up investing in a few more markers just so I have more than one actual orange color!
The green drops are actually Nuvo Glow Drops.  They glow in the dark!
The key to adding Nuvo drops is to not allow the tip of the bottle to touch the paper.  Hold it above the paper and squeeze out the drop and then lift up.  This will leave a candy kiss shaped drop, but these drops are self-leveling and it will smooth out forming these great drops!
How great do those look?  They look like enamel dots.  They take about an hour to dry, but I do try to leave them overnight.
I used my Build-a-Tag die set #1 from Sunny Studio Stamps to create the tag and the glitter round hole cover.  The gingham ribbon is from Doodlebug Designs.
The Copics are the only yellows and oranges I have:  Y11, Y13, Y17, YR12, YR14, YR68, N3, N5.  I used Altenew Permanent Black ink to stamp the image and sentiment.
The image and the sentiment are popped up on foam tape.
Here is a quick video tutorial to show you my "process".
Supply List
Are you interested in the products I used?  To make them easier for you to find, I have linked them below. (Affiliate disclosure ) Your purchases help keep my blog running at no additional cost to you and I thank you for the support!
***Note:  I don't have an affiliation with Brutus Monroe.  I'm including the link here to make it easy for you to check it out if you are interested.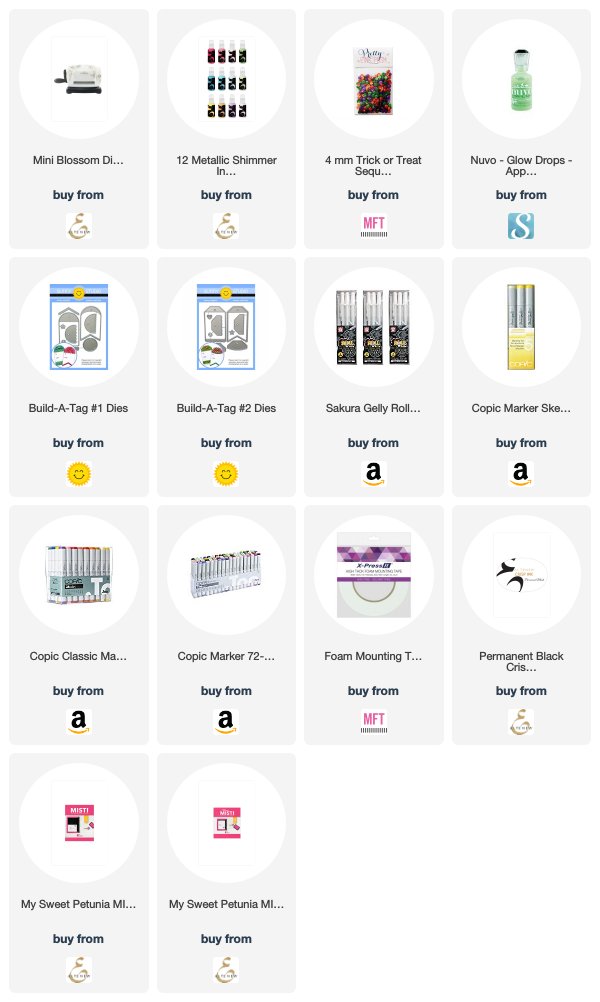 Thank you for stopping by!  Make sure you are subscribed to my YouTube Channel!