A couple years ago, I took a class at Brit & Co on custom hand drawn houses.  The point of the class was to make them imperfect and get just enough detail in there so people could get the idea of what it was they were looking at.
I loved that class.  It was an hour long and it was FUN!
I love being told that the less perfect a project the better!  I'm totally in with that!
When I saw this week's Atlantic Hearts Sketch Challenge for this week, it totally inspired me to create a very simple card completely by hand with no stamping.  I added watercoloring for fun because that is what we did in the class.
No special skill or technique required.
I was using what I had sitting on my desk from my watercoloring projects from the last two days.  These are scraps.
I also used Concord & 9th's City Stacks stamp set as my inspiration and the sentiment is from that set.  It is a very artsy set and I really like the loose design.
It's a fun one to add your own touches to when you do stamp it and add color.  Here, I used it as my muse to create my building and then I just started adding watercolors with my Altenew Watercolor Brush Marker Pens.
I used my Pigma Micron pen to add the imperfect border and then I added the "ribbon" lines on a scrap of craft card stock so that this worked with the sketch for the week.
I often ask my husband for his opinion on my projects and much to my surprise, he liked this.  He said it was artsy.  I liked that answer.  I was going for imperfect and that is what I got!
Here is this week's Atlantic Hearts Sketch Challenge and we would love to have you join us for this challenge!  If I can hand sketch and watercolor a house this imperfect and post it online, certainly you can stamp a card and be bold enough to post it!
My card was also inspired by some really fantastic cards that are watercolored barns and houses with a hand drawn border from Pinterest that were created by Gardenblooms.  They are fantastic and truly works of art.  Not even a little artsy!  I went back to find them and discovered a ton of gorgeous floral watercolors.
You can check them out on my Pinterest Page on the Watercolor Board.  Make sure to follow me on Pinterest while you are there!
I'll keep practicing!  I truly love to watercolor and I'm enjoying created Zentangle and hand sketched things as long as I can keep it relaxed, imperfect, and artsy.  I find it is almost meditative it is so relaxing!
Supply List
Are you interested in the products I used?  To make them easier for you to find, I have linked them below. (Affiliate disclosure ) Your purchases help keep my blog running at no additional cost to you and I thank you for the support!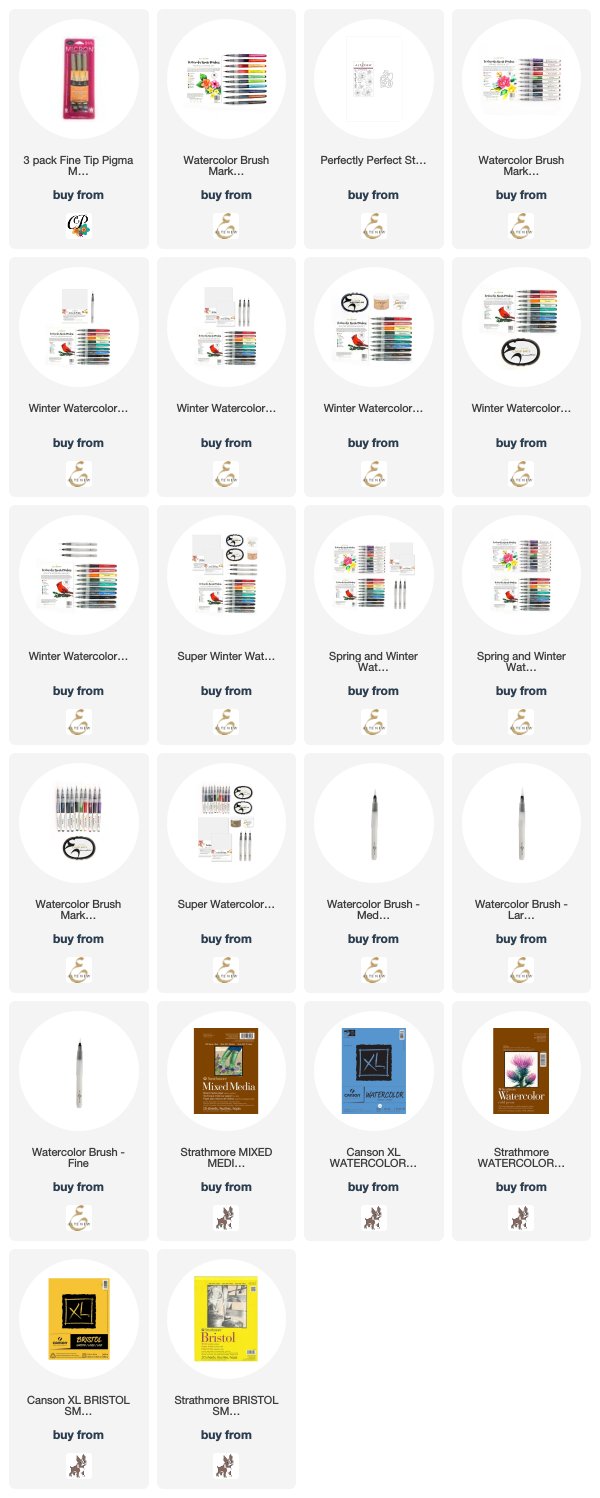 Thank you for stopping by!