LOAD Challenge 1020 Day 6:  Layout A Day Challenge!
This is my layout for today's Scrap Happy LOAD Challenge.  I receive the story prompt emailed to me today and it was to share a physical feature that affected someone's life. The technique prompt was to include an icon related to that physical feature.  I had no idea what that meant, so I didn't do that part.
I had a little trouble with this one!  I have big boobs, I cannot lie and that has affected my life in many ways.  That did not seem appropriate.  My husband has a big nose and giant feet, but that really hasn't affected him in any way.  But the OVERBITES!  That I could use!
My husband and I both have overbites (and we managed to find each other in a world full of people without overbites), so it was inevitable that our children would both have overbites and need braces.  Since they are only a year apart, they ended up with braces at exactly the same time.
I actually didn't add any ephemera to this page because I used a card sketch to create this page.  I pulled out the Paper Craft Crew sketch challenge this week all ready to make my design team card and I realized that I loved the layout for a 6 x 8″ scrapbook page!
Here is the Paper Craft Crew Sketch for the week:
The only thing I added here was a label to journal in!
I used some patterned paper from my stash that I cut down to 4-1/2 x 6-1/2″ and tilted them relative to each other.  My white card base is cut at 6 x 8″ and I added a yellow mat cut at 6-1/4 x 8-1/4″.  I added yellow mats around each of the photos that are 1/4″ longer and wider than the photos.
I used some Vicki Boutin Washi tape and some nice red alphabet stickers from my stash.  I did use some Altenew Jet Black Ink Spray on the white piece as well.  To finish off the page, I added some very old blue brad tops from at least 10 years ago!
I am de-stashing my stash!!  I am using all the things!
I saved it knowing that when I stopped working, I would have time to play with all of it!!
Here is a quick video of my process:
Supply List:
Are you interested in the products I used?  To make them easier for you to find, I have linked them below. (Affiliate disclosure ) Your purchases help keep my blog running at no additional cost to you and I thank you for the support!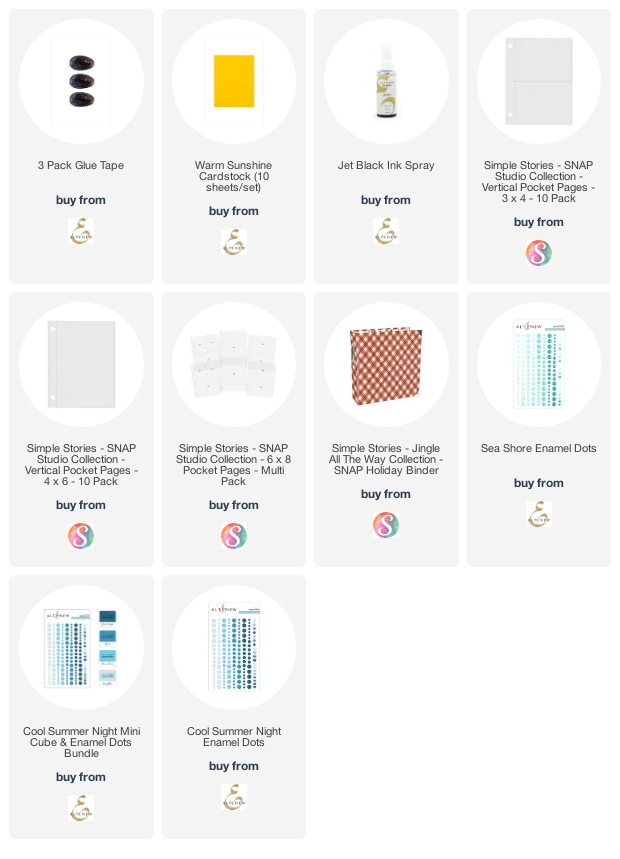 Thank you so much for stopping by today!  I hope that I'm inspiring you to pull stuff out of your stash and use it.  It feels so good!  I feel like I didn't waste my money because I do love the stuff.  It's lifting the guilt that comes with that stash!
Have a fantastic day!