Today was one of those crafting slump days for me.  I was exhausted when I got home from work and fell asleep for 2 hours.  When I woke up, I had to double time it to get my Paper Craft Crew design team submission done for the week.
I just couldn't get it together…even when provided with the idea!
You can be the judge:
This cute little stamp and die set is called Hocus Pocus and it is from Waffle Flower.  There are way more pieces to it and I have no doubt you can create really fun scenes with it.
I just couldn't get it to work.  This was try 3.  Yes.  I said try 3.
The Paper Craft Crew challenge for the week is a Tic-Tac-Toe Challenge.  I essentially had to pick 3 elements in a row and make a card.  Sounds so simple.
Not today!
I picked the top row: Animals, Natural Element, and Spooky.
I assumed Halloween can count as spooky and the cat is an animal.  Those little "crystal" stars are my element.  I know I'm pushing my luck here.  Go with me on this one.  It really was my best effort today!
I love the little Waffle Flower stamp and die combos.  They come in really nice thick plastic sleeves.  There is no need to repackage them to store.  They are nicely done!
Supply List:
Are you interested in the products I used?  To make them easier for you to find, I have linked them below. (Affiliate disclosure ) Your purchases help keep my blog running at no additional cost to you and I thank you for the support!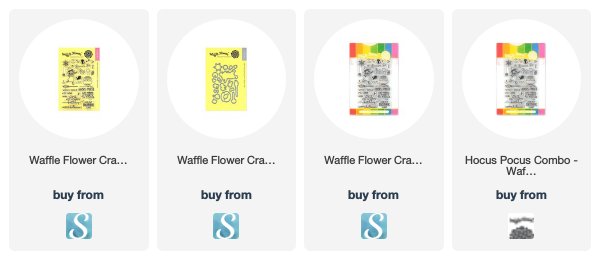 Thank you so much for stopping by today!  I'm embracing the imperfections on this day…and maybe tomorrow too!