Or craft with complete strangers!  I signed up for a couple of Altenew's Virtual Workshops just for the fun of actually interacting with someone other than my husband.  We've been blissfully married for 35 years, but sometimes I like to spend some time with other crafty peeps.  Just hearing other crafters chatter while you create a card feels like heaven these days.  With the exception of a few doctor's appointments that I couldn't avoid, I have literally not left my house or neighborhood since March 12.  I haven't been to any stores, no social gatherings, no hair appointments.  My hair is long and the color is growing out!
Needless to say…it was a nice change of pace to participate in a couple of virtual workshops that used Zoom so you can actually see other creatives in their crafty spaces.
I typically like to take classes where I learn how to use a new technique or a new medium, but it was nice to create a couple of cards even if they weren't my own design, just to create with other people.
Yesterday I spent a pleasant hour taking the Dots and Doodles class taught by Laurel Beard through Altenew.  We made two cards that Laurel designed and it was a very quick hour. I made a few changes to the cards as I was making them because it is actually tricky to create and look sideways at the computer.  The basic design is Laurel's and I apologize profusely to her if she sees them and thinks…"That's not what that was supposed to look like!".  We made two cards in that hour.  I know that doesn't seem like a lot, but when you are watching someone and then doing the task, an hour doesn't seem like enough time!
The workshops focus on a specially curated bundle that Altenew puts together.  When you purchase the bundles, the workshops are free. That is, if there is a workshop that is coming up for that bundle.
This was the Dots and Doodles bundle.  It included the Charming Doodles stamp and die set, the Thank You Builder stamp set, the Illusion stencil which you see on this card, an inspiration guide, the Golden Dots Washi Tape, and it was supposed to include the Charming Doodles mask set but mine did not have that.
For the first card, we stenciled the center of the stencil on the card front and lightened our touch as we moved outward toward the edges of the card.  Then we stamped the images and die cut them all out.  Everyone seemed to select their own colors for the florals.  I used Rubellite, Warm Sunshine, Ultramarine, and moss.   The final step was to stamp the sentiment.  I added the sequins after the class to complete the card.
I really like this stamp set.  I will definitely be using this one again!
I didn't have the Mountain Mist ink spray so I used the Dusk ink spray instead.  I really don't use these ink sprays enough.  I LOVE how they look on a card.  Although we did spray this over the stencil and you can just barely see the stencil outline, but it is there!  I usually spritz in a box, but didn't grab it.  I won't make that mistake again!  Spritz everywhere!
Then we stamped the images on the card front, added the Washi tape at an angle and stamped a sentiment.  I added the sequins when the class was over.  Isn't that Washi tape fabulous?  It's a quick way to add pattern to your card.  In this case, it also adds that amazing metallic detail that always adds a fantastic touch to your cards and projects.
So if you are feeling a little stir crazy and you are craving some crafty time with like minded people, I highly recommend trying one of the Altenew Virtual Workshops in August.  There are several on the calendar and you still have time to get the Creativity Kit bundle that goes with the class for those in mid to late August.  I've done 3 so far and it was just what I needed.  I'm also taking several classes and I always do the Vicki Boutin lives twice a week, but the Zoom component adds the element of interaction between the participants and instructor.  It's nice!  Even if you are quiet and reserved like me…it's nice to hear the chatty person while you create.  (I'm much chattier when I'm the instructor!)
So while these are not my card designs, I did pick the colors and sentiments and the layout of the florals.  I enjoyed creating them and I will enjoy creating all the other things that I make with this kit.
That Thank You Builder stamp set is a staple in my craft room, so I will be tucking this into a gift for one of my crafty friends at Christmas this year.  They also have a Birthday Builder and a Just Because sentiment builder that I also have and reach for all the time.
Supply List:
Are you interested in the products I used?  To make them easier for you to find, I have linked them below. (Affiliate disclosure ) Your purchases help keep my blog running at no additional cost to you and I thank you for the support!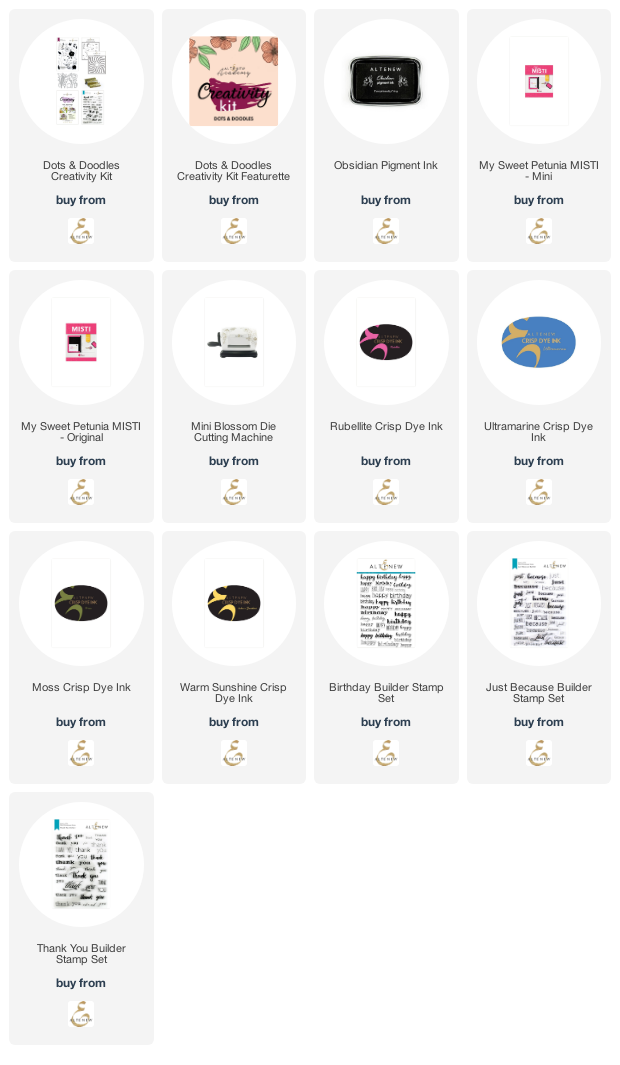 I have a lot of inspiration on my Pinterest boards.  Make sure you check them out and follow me for more ideas.  I pin all kinds of crafts, recipes, home decor, and educational things…along with my craft stuff.  I have Copic Combination boards, Christmas Crafts, Crafts for Kids, DIY home decor…you get the idea!
Thank you so much for stopping by!  Have a wonderful day!