I'm very excited to participate in my first challenge with the Design Team for the scrapbook Challenge Yourself blog.  A big thank you to Sharon Fritchman for selecting me to join the team.  I'm so humbled to be a part of this talented group. Make sure you check out the other designers pages and leave some comment love.
I LOVE the idea behind this challenge.  Over the years, I've done a lot of scrapbooking.  I'm almost NEVER in the pictures.  My daughter has made me a couple of scrapbooks over the years that include me in the story because she took pictures of me. My husband doesn't take pictures of people unless they are holding fish.  This challenge is for those of us who snap all the pictures of everyone else and never get any of ourselves to include in the story that the scrapbook is telling.
For this challenge…YOU need to be in the picture.
This is a true challenge for me.  I've gained weight over the years and I'm a good sized curvy gal.  I'm not gonna lie…I don't love to see photos of myself.  I do however, want to be part of the story.  I also want to love myself just the way I am.
I'm a work in progress and that is one of the reasons that I found the January Challenge Yourself theme to be so very inspiring.  I LOVE this month's theme.
The first challenge for 2020 is to select your One Little Word of the Year for 2020 and create a page around it and you need to be in the photo!
To learn more about Ali Edwards one little word concept, please check out her website here: https://aliedwards.com/one-little-word
This is not an affiliate link.  I have no affiliation with Ali Edward's company.  However, I was so inspired by her and her concept that I decided to take her class and order the kit and work through the year with the class and private Facebook Group to stay focused on my word.  I am on a journey that includes developing new relationships and developing a relationship with my word of the year.
My Word of the Year for 2020 is "Journey".
Yes, in fact I did take at least a dozen selfies until I got one I liked.  I know you were wondering.
Yes, in fact I did crop at least one chin out of the photo and wore a big puffy turtleneck sweater.  But, hey…I'm in the photo!!  I'm proud of myself for that.
Having a blog where you share what you create takes a great deal of courage as does having photos taken and sharing them online.  At least it does for me.
In my blog post yesterday, I shared that this is the word that chose me.  I just retired from a wonderful and long career teaching science and I'm moving to the next chapter of my journey.
This word just called to me.  It always does.
One of the great things about this month's challenge is that it is a theme.  You get to choose the layout and the colors.  I just fell in love with this paper from 49th and Market Paper Goods called Bold & Beautiful.
This is a set of 8 x 8″ papers with 8 sheets of double sided papers and 3 sheets of coordinating laser cut pieces to use.  As I write this, I was shocked to realize that this is double sided paper.  I never turned the sheets over because the papers are so gorgeous!  WOW!
(I was also shocked to read that these are made in Huntington, NY.  Only 1-1/2 hours from my house.  I was just there on Wednesday to pick up the craft wardrobe I bought on Facebook Marketplace.  You can see that in my post from yesterday as well!)
The die cuts that came with this paper actually have several that are designed to layer and add dimension.  Check out a close up of that:
How pretty is that?  It looks watercolored!
The die cut that says, "thankful for today", is from the Ali Edwards kit.  You can see I added very little journaling to this page.  I always like to date the page so I know when the photo was taken and I've added a line so I know that this is my word of the year page.
I did very little to this page.  I added a few of the dimensional flowers that came in the paper set, one of the post card die cuts, I created some of my own inked paper to die cut the letters for my journey title using Altenew inks and an Altenew Rustic Linen background stamp and the script letters from Sunny Studio Stamps, and then I added some black splatters.
The paper was so beautiful that it did all the work for me.  It is simply gorgeous.  Someday, maybe I will create a paper as beautiful as this by actually watercoloring and stamping.
In the past few years, I moved away from purchasing the patterned papers for scrapbooking.  I was trying to keep myself from the lure of creating a stash of papers that I have to keep organized.  I also felt the need to stamp and create all of my own backgrounds for my scrapbook pages.
I enjoy doing that and making the page all my own.  I even made my own die cuts and decorations.
But seriously!  These papers are too beautiful not to try.  They were on sale at Scrapbook.com so I had to check them out.  I have another package from the same company and one of them was actually free.  Scrapbook.com has really great coupons and big sales.  I will link things below, but once you go there make sure you click on the coupons button on the top.  You get spectacular deals.
I love the little script die cuts.  I created my own blended ink background so it worked with the colors on the page.  I have so many alphabet stamp sets that I love using for things just like this.
I'm also going to indulge in allowing myself to purchase more of these papers and laser cut coordinating sets.  Within reason of course.  I'm retired and now I'm living on a smaller crafting budget. Plus, I intend that all of my craft supplies will fit neatly into that craft cabinet and that I will be able to find everything I have.  I will also remember that I have it.  (That is going to require an inventory…but I'm retired now and I have time to do that!)
You can bet that every sheet of this will be used on my journey this year!  Did I mention how stunning this paper is?
Supply List:
Are you interested in the products I used? To make them easier for you to find, I have linked them below. (Affiliate disclosure ) Your purchases help keep my blog running at no additional cost to you and I thank you for the support!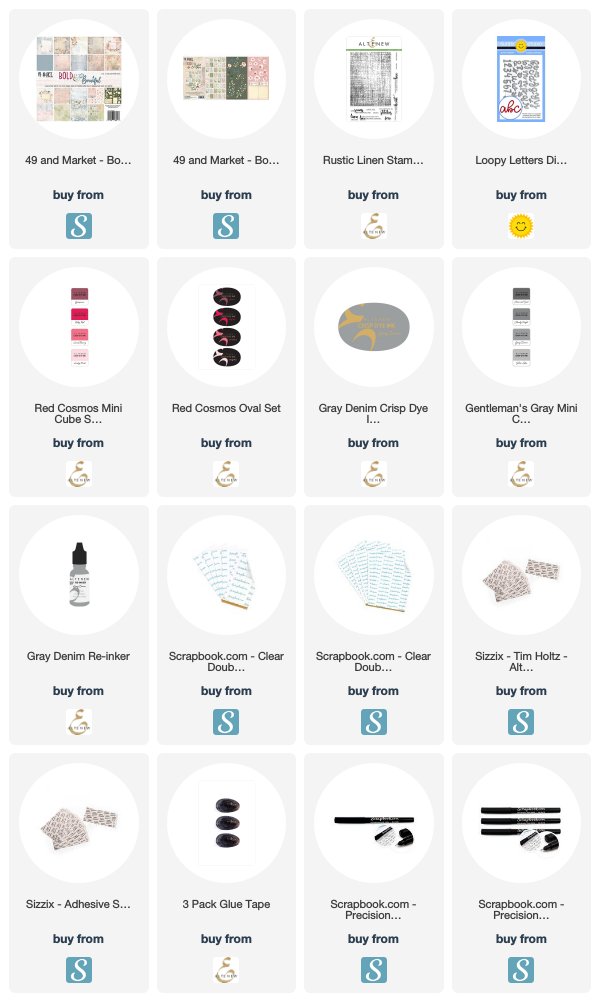 We would love to have you join us for this Challenge YOUrself challenge.  Why not select a word for the year and take the challenge, even for a month?
Thank you for stopping by and being a part of my journey!