I've been subscribing to the Hedgehog Hollow Kits almost from the beginning.  This is another kit that I enjoy because it comes with amazing products.  The August box came with 3 sets of 3 Nuvo Alcohol Markers, two stamp sets and a tote bag along with papers, envelopes and more.
Alexandra started a two week alcohol marker challenge today and I decided to participate.  It was $7.99 for regular kit subscribers and I have really been working on my alcohol marker coloring and my watercoloring.
Plus, we all know that daily practice is the only way to improve.
The task for today was to use one of the stamp images in the kit and to use only the markers in the kit to color a baseline image so we can see where we started from and how much we have improved in two weeks.
Here is my attempt!
I will confess that I found this difficult for several reasons:
 The markers have no brush nib.  They have a bullet end and a chisel tip, but no brush.  I usually use Copics or Altenew which have that wonderful brush nib.  I wasn't quite sure which end to use.
The image had a lot of small spots and I wasn't sure which was a separate petal and which was a folded over petal.  I muddled through and I think it came out okay.
 I had to confine myself to only these colors.  I wanted to add some yellow and a darker gray drop shadow.
 These are sets of 3 and I was wishing for one more darker color or a darker gray to add some depth to the places that needed to be darker.  I was tempted to use the black marker to make those inner petal parts really dark.  I wasn't brave enough.  (Kelly Latevola would have told me to go for it!)
I did start with a swatch set that I created before I did any coloring.
I can't wait to see what the other participants came up with.  Apparently several of them have been coloring with alcohol markers for at least 10 years.  I've only been doing this since Altenew came out with their first set, which was a year or so ago I think.
Supply List:
Are you interested in the products I used? To make them easier for you to find, I have linked them below. (Affiliate disclosure ) Your purchases help keep my blog running at no additional cost to you and I thank you for the support!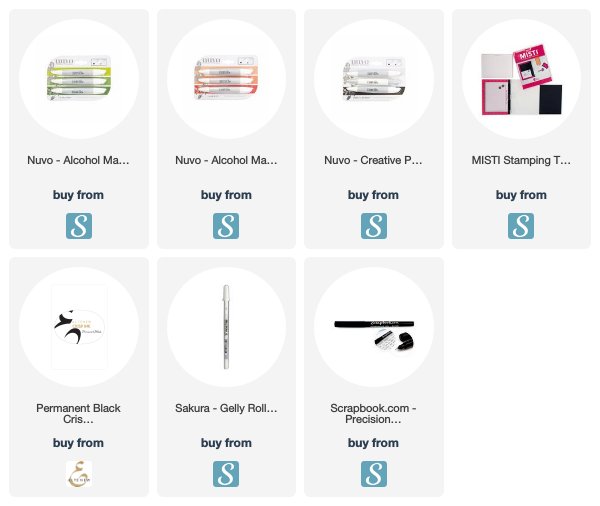 Thank you for stopping by!  Check back for my daily progress.  I will share what I am learning!