I have a product review for you today using the Totally Tiffany XL Pen and Ink Palace.  I made the video almost a month ago and I have had this on my craft table and I absolutely love it.  I have all of my Altenew Alcohol Artist Markers, my marker paper pads, my Memento ink pad, my embossing inks and my embossing powders all stored in this right in front of where I create.
It's so handy and everything is right in front of me.  I LOVE this.
If you have been reading my blog for awhile, you know that my organizing style is to have my stuff where I can see it.
You can see the Pen and Ink Palace right next to my Die, Stamp, and Supply Storage piece.  I have them stored under my ink pads and you can also see my embossing station to the left.
This is a handy way to keep everything right in my face!  I won't forget to use my colorful embossing powders anymore!
I love the Desk Maid line of products that Totally Tiffany has.  I have a couple of the Stadium Storage pieces for my NUVO Mousse jars and one for my ink sprays and liquid watercolors.  I have the Hot Glue Gun Storage tool as well.
You can see that I have change a couple of things on this XL Pen and Ink Palace.  I have added my Tombow markers as well.  I just got a couple of sets of these to try out and wanted them right in front of me so I would remember to use them.
I really love that these products are white and the gorgeous colors of my crafty supplies really pop with these Desk Maid products.
How pretty is this for marker storage?  It is so inspiring to look at that every single time I sit down at my desk to create!
I did receive the XL Pen and Ink Palace from Totally Tiffany.  As part of her Blogging Troup, she invited each of us to select 2 items to try.  I selected this item and the Paper Storage Cart which I will share tomorrow.  I selected these two items because the XL Pen and Ink Palace actually fits on the top shelf of the paper cart if you leave the two bars off.  My intention was to use them together in that way.
The problem is that I really love this on my desk so there is no way I will be using it on the cart…unless I purchase another one the next time they go on sale!
One of the things that I need to do is to select my favorite Totally Tiffany product and she will be putting our favorites on sale next week.
So far, I love the entire Desk Maid line, the Stamp, Store and Go bags, the Fab Files, and the carts.  It's hard to pick a favorite, but I have to go with the Stamp, Die and Supply Storage piece.  I LOVE IT!
Here is a video to share other ideas of what I might use the XL Pen and Ink Palace for instead of markers:
This is part of my 30 Day Craft Room Clean Up…Markers and Embossing Powders!
Supply List:
Are you interested in the products I used?  To make them easier for you to find, I have linked them below. (Affiliate disclosure ) Your purchases help keep my blog running at no additional cost to you and I thank you for the support!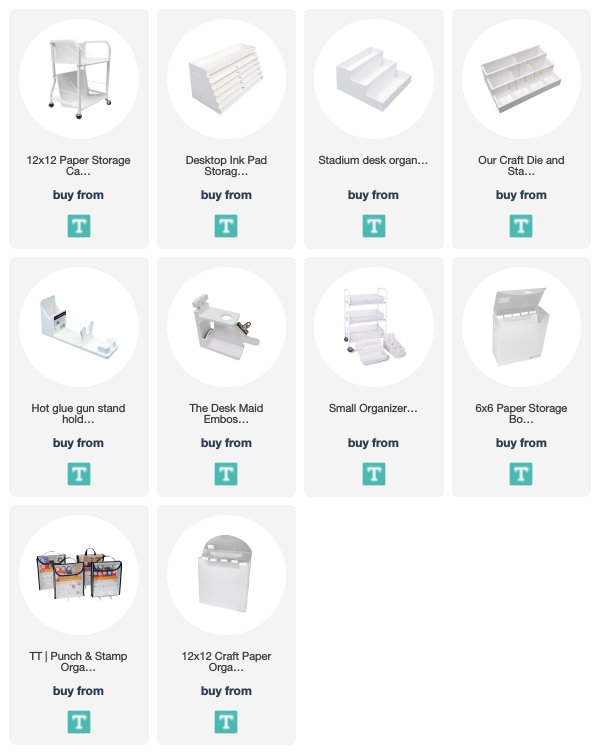 Thank you for stopping by!  I would love to know what you use your Pen and Ink Palace to store or what would you use it for if you had one and where would you keep it?