When asked what my greatest organizing challenge is whether it is household organizing or craft room organizing, my answer is always the same.  PAPER!
My nemesis!
By nature I pile things when I get busy or don't feel like dealing with something and that something is almost always paper.  (Although clean laundry would be a close second.)
I've had to force myself to deal with the mail and other papers that come into the house right away.  I don't allow myself to put the mail down on the table until I've recycled the junk and shredded the stuff with my information plastered all over it.  Then the papers that require action go directly to my desk.  Since we downsized, I don't have an office space so my desk is in my living room.  Needless to say, that is incentive enough to keep it tidy and to deal with that action pile every couple of days.
Paper in my craft room is much the same way.  I no longer have a pile of scraps on my desk waiting to be filed or used.  I toss out small scraps and then immediately file the rest into my Fab File where it came from with the original paper pack or I file it back on the shelf if it is card stock and it lives with the orginal paper pack that it came in as well.
This was a challenging habit for me to form!  I would rank it up there with eliminating soda from my diet.
I just received the Perfect Paper Cart from Totally Tiffany and I just got it put together.  Tiffany invited me to select two items from her shop to try out and review as part of her Blogging Troup.  I reviewed the XL Pen and Ink Palace (LOVE IT!) yesterday.  You can see that review and video HERE.
Today, I want to share the Perfect Paper Cart.
I selected this to use with the XL Pen and Ink Palace because that can fit on the top shelf of the cart.  I fell in love with having that on my desk within reach so I had a whole cart shelf of space to use for something else.
This is a sturdy metal cart that you put together in 6 quick and easy steps.  All the tools you need are provided with the cart.  The cart has nice casters on the bottom so it moves and spins 360 degrees!
It has 2 bars to separate each shelf into 3 slots each that you can leave off if you want to put a larger item on the cart.  I chose to leave the bars in place to provide slots for specific items.
On the bottom shelf, I have stored all of my 12 x 12″ papers.  My scrapbooking papers are stored in the 12 x12″ Fab Files from Totally Tiffany.  I've got my large paper pads, my Score Pal, my Memory Misti and a scrapbooking kit from Altenew.  I still have room left!
On the top shelf, I took some of the tools that I use every single time I craft and moved them off my desk to have a new home on this cart.  I have my Misti tools, my Score Buddy, my Embossing Station, my trimmer and a bin full of precut papers.  I love that I have extra space on my desk now and my most used tools are right next to me on a cart I can easily move across the room if I want to craft at the other table with a friend.
This is not a giant cart.  Most carts that you buy in Ikea or at craft stores are about a meter or a yard tall.  This is 25″ tall.  It actually rolls under my craft desk!  It is 18″ wide and less than 16″ deep.  It is a convenient little size to store in a nook in your room or under a counter or table.
Here is my video review:
I can envision using one of these when I retire and travel to my winter cottage.  I will have a small craft space and this will tuck into the closet perfectly.
Supply List:
Are you interested in the products I used?  To make them easier for you to find, I have linked them below. (Affiliate disclosure ) Your purchases help keep my blog running at no additional cost to you and I thank you for the support!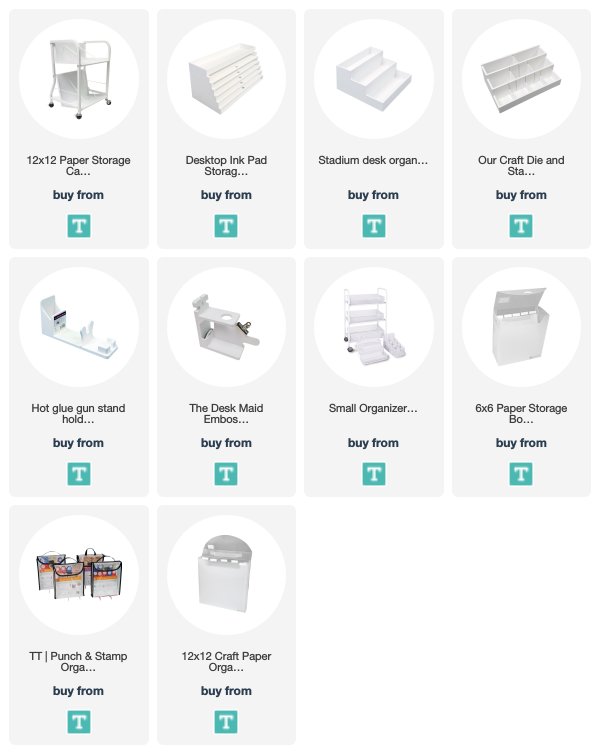 Thank you for stopping by!  Happy crafting and organizing!