Altenew has a new artist watercolor pan set that I have really been enjoying playing with.  I shared two of the other cards that I made from the Altenew Academy class called Artist Watercoloring 101.
The two pieces I'm sharing today are from two other lessons.  I'm using a new stamp set that I got from Concord & 9th called Meadow Blossoms.  I decided to try this one because it had 3 nice big floral elements without of lot of folds and details.
The first one is my attempt at no line watercoloring using a lighter ink.  I did not use the Ink On 3 ink even though I have it because I have a lot of trouble seeing it once the image is stamped.  Instead, I used the Antique Linen Distress Oxide ink hoping to achieve a similar look.  Unfortunately, you can see the lines and they won't be fading.
This is a wet on dry technique using wet paint on dry paper.  The paper is Canson 140 lb cold pressed watercolor paper. I use this paper because it is easy to get and often on sale at my local craft store.  I'm using a #6 round Princeton Velvetouch paint brush and the Altenew Artist Watercolor pan paints.
So far, I'm not a fan of no line watercoloring, just because I have never quite made it work.  My main focus on this practice piece was to work on shading so that I could create some dimension to the flower.
No matter how I feel about the end product, I always feel relaxed after watercoloring for any amount of time. I truly think this is one of the most relaxing things that I do.
The next piece was my first attempt to paint "white" flowers.  It turns out that white flowers require a lot of colors!
I haven't mastered the shading technique where you add light color and fade it out to white.
It's okay though…this just means that I need more practice.  This is not a bad thing.  See above where I say that this is the most relaxing activity that I know of.
I got a lot out of this Altenew class as I so often do.  Have I mastered watercoloring techniques…no.  However, I found that was gaining more control over what the paint was doing or at least getting the paint to do what I wanted it to a bit more often.
You will notice that I did not cut these down and create cards from them. I decided that it is time to put some of these pieces in frames or a journal where I can go back and view my progress as I go on.
I found an old piece from a year ago when I was packing and moving a couple of months ago.  I can see such huge progress between the work I'm sharing with you today and that piece that I did a year ago.
I will pull these pieces out in a few months and compare them to what I've been working on since I've made these pieces and I will see huge progress then from now.
I tend to create cards with everything and give them away, but this time these are for me.  I want to see my growth.  There is something about seeing how much progress you've made over a period of time to make you realize that you are improving.
I can't compare my work to that of the instructor.  What is that saying?  Don't compare your beginning to someone else's ending.  Or in this case my intermediate to some one else's expert level work.
My goal is to create pieces that are beautiful and make me feel happy (and relaxed!) and worthy of teaching someone else what I have learned thus far.
Last fall I took an alcohol marker coloring class that was two weeks long.  The instructor claimed we would all become experts with the tips and tricks she would be sharing with us in that two week period.
I know that I'm not going to become an expert colorist in any medium in two weeks.  How ridiculous.  Especially when the entire first week involved practicing flicking techniques.  What I hoped to gain was at least one tip or trick that I might add to my emerging style of marker coloring.  Every instructor has their own style and every course I take gives me new tips to add to my own style.  Someday I will be more expert at watercoloring and alcohol marker coloring.  Not today and not in two weeks.
That means more practice…I know!  How relaxing that will be!!!
I also know that I've taken classes from some truly talented colorists and they all say that they've been coloring for years and find that they are still learning things.  None of them claimed to have a two weeks to becoming an expert plan.  You have to plug along, experiment with different tips and tricks, and PRACTICE!
So I'm off to practice!  Today I will be taking a class using Copics to color a Unicorn.
Does it get any better?  I'll daydream about that PhD I'd like to get in Cryptozoology just for fun.  (You know…the study of creatures that may or may not exist.  It's my secret daydream. My daughter gave me some Cryptozoology books for Christmas as a joke.  The joke is on her…I'm enjoying them.  The stories are fantastical! Plus, she's the one that went to Loch Ness.  That is also on my wish list!)
Supply List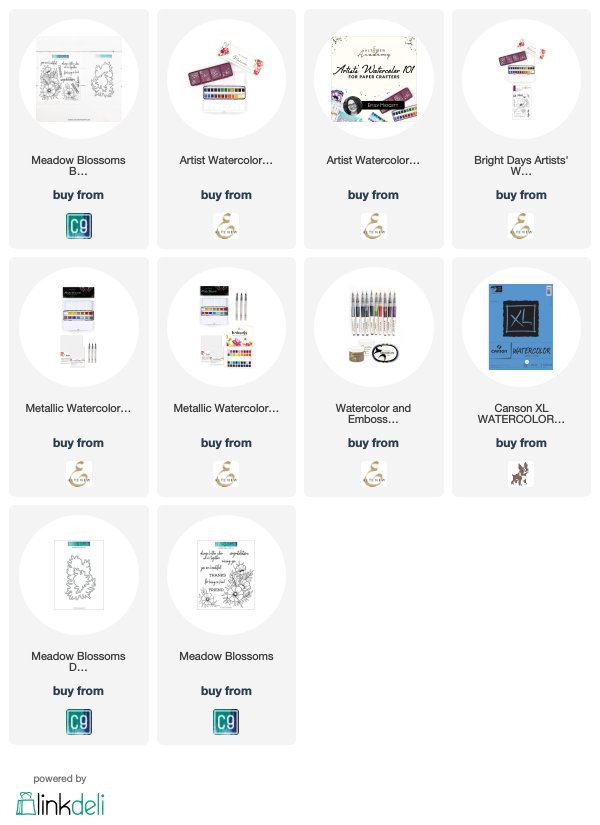 Affiliate links include no additional cost to you!
I hope you have time to find something relaxing to do today!  Happy creating!