Ever since I received the Scalloped Rectangle Die Set from TLC Designs, I haven't been able to get it off my desk!  I keep reaching for it to create new and different projects!
I love it when I get a new crafting tool, stamp, or die that I find so many uses for.  When you get something and use it over and over, you really get your money's worth out of it!
Today I created a little gift bag for Mom for her birthday in January.  I'm working ahead so I can get it mailed very early so she has it for her birthday.
I've used these fantastic rectangle dies to create the front and back panels of my gift bag and then a second die in the set allowed me to create the panel I decorated and added to the front of the bag.
I LOVE the "eyelet" detail on these dies.  I love that they aren't just plain rectangles and they add a lovely detail to the edge of this gift bag!
That little sleeping dragon is so adorable to top it off as well.  The moon, cloud, and star stamps are part of the same little stamp set.  I embossed them in antique gold embossing powder and colored them in to add a fun backdrop to this adorable little dreamer.  This set is actually called Dreamer the Dragon and it has 6 stamps in total. It is also a TLC Designs set.  You see 4 stamps that I've used on my project here then there are 2 sentiments as well.
The sentiment that I used is from the TLC Designs Celebrate stamp set.  I just wanted a little sentiment for the gift bag and I love this little "to you" sentiment.  It's a fun font and it's small enough to fit in smaller spaces like this one.
I used a little Speckled Egg Distress Ink to create a soft ink blend from the bottom of the white panel to the top.  The images were all colored with my Altenew Artist Markers.  I love these alcohol markers because they come in sets of 12 that have 3 sets of 4 colors that layer together.  It makes deciding which colors I need so simple!
This little dreaming dragon has 2 other stamp sets: Sweetie the dragon and Happy the dragon.  These are small stamp sets that are really affordable. Like this one, they come with some little accessory stamps and sentiment stamps.  It's a complete stamp set for less than $8!
The die sets are jam packed as well and have multiple dies.  I've created several projects with this set and I have yet to use the little decorative dies that come with it!  I still have so many more projects to go!
Video Tutorial:
Bag Recipe:
Cut 2 blue card stock pieces with the largest rectangle die.
Cut 2, 1-1/2 x 8-1/2″ strips out of the blue and score 1/4″ along each long side and 2-1/2″ from 1 end of each strip
Cut 1 strip of blue at 1 x 8-1/2″
Die cut and trim the medium frame piece from white card stock
Create your Dreamer the Dragon on white card stock
White Ribbon and tissue paper
Supply List:
Are you interested in the products I used?  To make them easier for you to find, I have linked them below. (Affiliate disclosure ) As an Amazon Associate I earn from qualifying purchases.  Your purchases help keep my blog running at no additional cost to you and I thank you for the support!
TLC Designs Shop: TLC Designs One of a kind custom designed crafting products
TLC Designs Dreamer the Dragon stamp set: Dreamer The Dragon – TLC Designs
TLC Designs Celebration sentiment stamp set:  Celebrate Sentiments – TLC Designs
TLC Designs Scalloped Rectangle Die Set:  Scalloped Rectangle Garden – TLC Designs
TLC Designs Creative Sharing Group on Facebook:  TLC Designs Creative Sharing | Facebook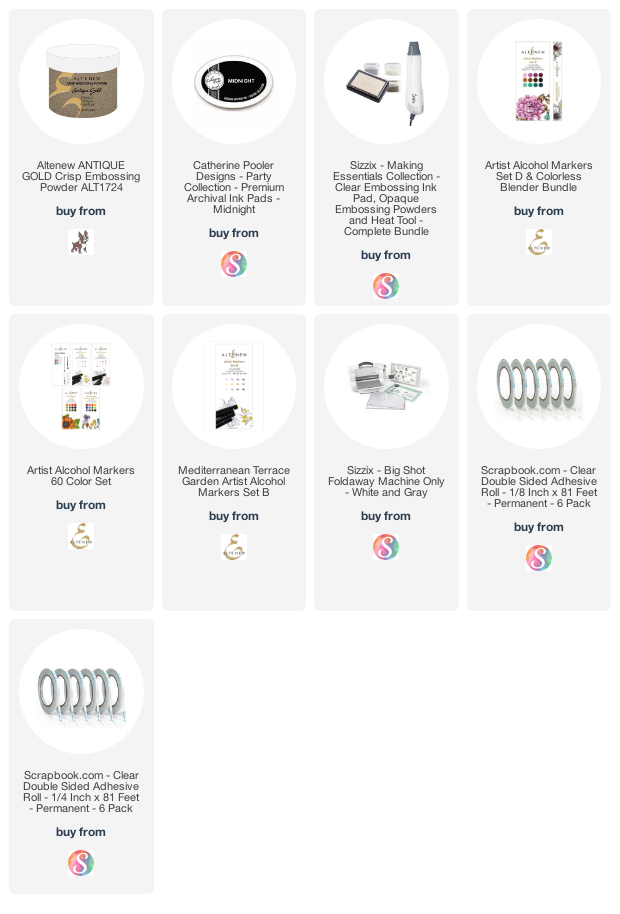 Thank you for stopping by today!  I hope you are having a wonderful holiday season!