Catherine Pooler recently released her Welcome Home collection. I impressed myself by just picking a couple of items.
Self control is not one of my strengths!
Altenew also recently released a new set of Artist Markers and I just could not resist playing with the new stuff!
This is Catherine Pooler's Cottage Garden Bundle.  It has a background stamp which I will share with you on Wednesday for my Paper Craft Crew card next week.  It has the Cottage Corsage stamp and die set as well that coordinates with the background stamp.
I'm not going to fib.  I stamped the sentiment on what I had intended to be the top of the colored image!  Yep…totally upside down.
In the end, it doesn't matter because I kept the shading to the top and the right so it is consistent in the entire image.
As you can see, I was experimenting with my alcohol marker techniques again.  I've been taking classes from two people who have completely different techniques.  One person always goes light to dark and back and the other goes dark to light and back.
I'm studying both techniques and adding little things I'm learning from other people so that I can figure out what I like the best and end up with a technique that is uniquely mine.  One that I am comfortable with and one that I like the results every time I color.
I was working on shading techniques in the one and I was going for a single layer card.  I have work to do with my shading, blending and highlighting, but all-in-all, I enjoyed making the card and I was okay with the end result.
Colorful cards make me happy and I'm desperate for spring to get here.  Hence, the florals cards that I keep making!
I'm embracing the imperfections on this one!
Isn't the stamp set fun?  I love the geometric aspect of the image and I think this would be fun to try to watercolor as well.
The Altenew alcohol markers are just perfect for me as I'm learning and trying out different styles and techniques.  The price point is so much more affordable than other sets and they are slowly adding colors that coordinate with their watercolor lines and their ink pads and ink sprays.  I'm really happy with these markers and I don't have to feel guilty about spending a small fortune on a giant marker collection.  They also have refills available for the markers along with replacement tips.
Supply List:
Are you interested in the products I used?  To make them easier for you to find, I have linked them below. (Affiliate disclosure ) Your purchases help keep my blog running at no additional cost to you and I thank you for the support!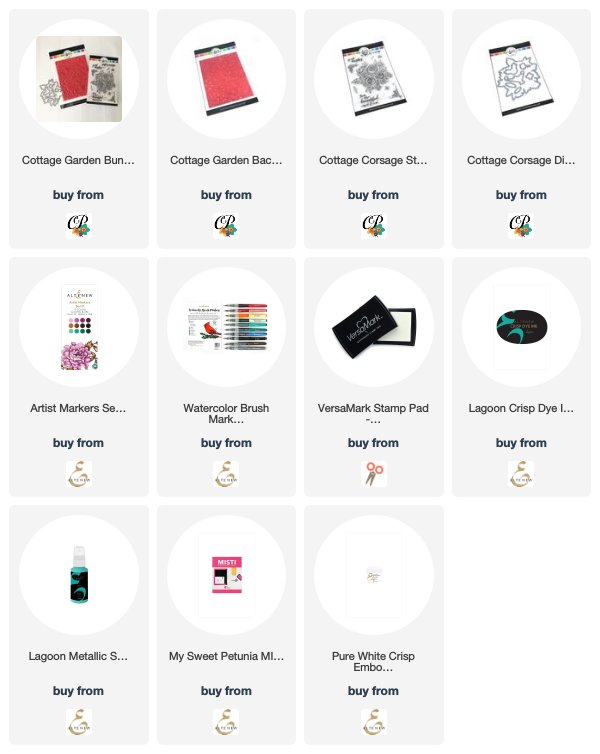 Thank you for taking time out of your busy day to stop by and visit!  Happy weekend!