Lately I just seem to have so little time to make my cards.  You know what that's like.  Some months it seems like you just don't have time for yourself.
I had wonderful reasons for not having time for myself.  My daughter was able to spend the last month with us, which was fabulous.  She just finished her doctorate and a month before she starts her post-doctoral research gig.  It was good to see her relax and do nothing.  She has literally been constantly studying, doing problems sets, writing papers or presentations, or applying for internships and jobs during every break she's had for the last 9 years.  It was nice to see her working on crossword puzzles watching TV or floating in the pool reading a book.  She also spent a lot of time teaching herself lettering skills with a book she bought on mindful lettering for relaxation.
Toward the end of her visit, I ended up leaving to fly to Florida to supervise the delivery and installation of our little house on our tiny piece of property!  After 11 years of waiting, it was amazing to see the house sitting on the property and it is so cute!!  I will share pictures as soon as I have time to upload them!
Needless to say, I had to pull out one of my favorite tricks to create a quick card that worked for both of my design teams.
The tip:  On those days that you have time to stamp and color, stamp and color some extra images and store them in the stamp set envelope or in a plastic sleeve by theme.  This is exactly what I did a while ago and I was delighted to find images that I had created and colored months ago ready to go today.
I created a quick background using this week's Atlantic Hearts Sketch Challenge sketch and I used blues and purples to create a water feel to go with this week's Paper Craft Crew Inspiration Challenge which is Seaside Summers.
I started with a fabulous sketch from Atlantic Hearts Sketch Challenge:
I used the Sunny Studios Oceans of Joy stamp and die set, colored with Copic makers.  The background was created with one of Altenew's fabulous wide washi tapes.  I added this to the edge of the card front and trimmed it down.  Then I used Mermaid Lagoon and Shaded Lilac Distress Oxides with my Picket Fence Blender Brushes to create the background.  The washi tape took the color beautifully, but I did need to give it time to dry without touching it so I took a walk with my husband while it dried!
I added some Studio Katia iridescent bubbles and a quick sentiment from the stamp set and called it done!
I chose the Oceans of Joy because this week is an inspiration challenge at the Paper Craft Crew called Seaside Summers.
Here is another quick look at the card:
Supply List:
Are you interested in the products I used?  To make them easier for you to find, I have linked them below. (Affiliate disclosure ) Your purchases help keep my blog running at no additional cost to you and I thank you for the support!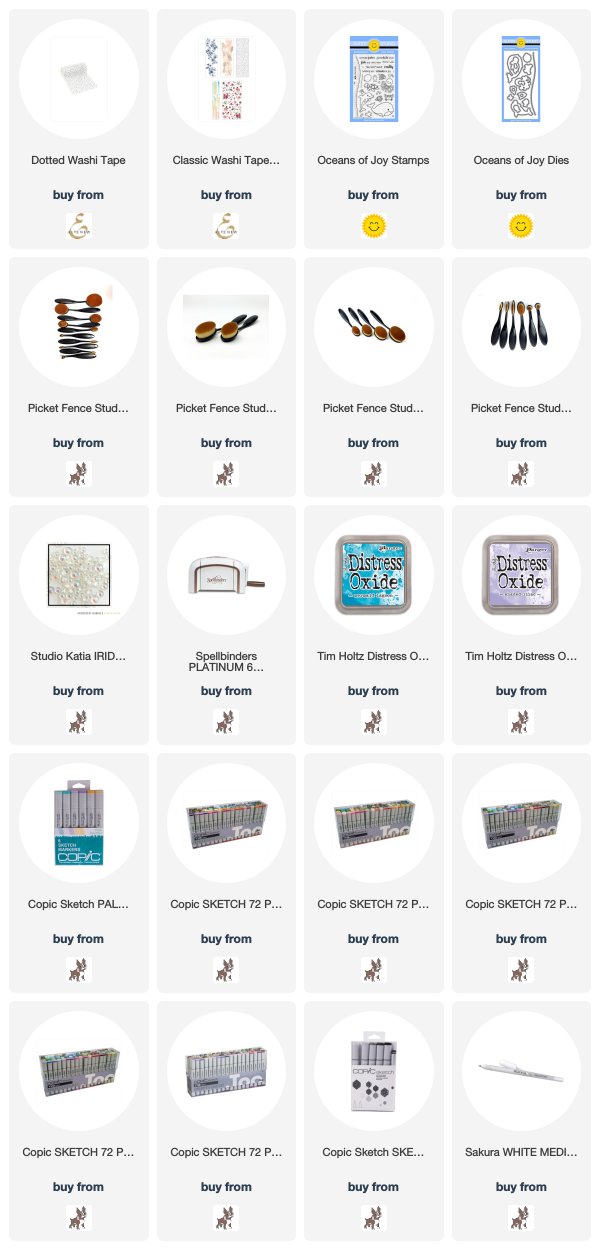 Thank you for stopping by!  I hope you find some crafty time for yourself today!