Today's card was totally inspired by the Altenew Academy Color Blending class taught by Kelly Latevola.  I've included a link to this fantastic class in the supply list below.  For less than $10 you get Kelly's expertise.  She is a super hero colorist!
I used the October Simon Says Stamp Card Kit: Thankful Flowers to create this card today.
I'm no Kelly Latevola, but I'm definitely better than I was a year ago.  Plus, I've got to tell you that if you have not tried watercoloring or alcohol marker coloring, both are just so relaxing!
You will just lose yourself in your project no matter what is going on in your head!
I started out with alcohol markers when Stampin' Up! came out with the original blendabilities that they later recalled.
As soon as Altenew came out with their first set of 12 Artist Markers, I was totally hooked.  They now have 6 sets of 12 markers.  Every new set just delights me!  They come out with them at an affordable pace which is nice.
Each set of 12 is just shy of $45, but wait for a sale.  They have them on sale all the time and if you spend $100 you get free shipping with the code on the website.
Plus they have refills, spare brush nibs and a colorless blender you can purchase as well.  They have several classes for less than $10 at their Altenew Academy site to get you started with how to and color theory.
I've used the colors Kelly demonstrated in the first lesson.  The orange and the blue are complementary colors and are across from each other on the color wheel.  They are a harmonious color combination that we find pleasing to our eye.
The background was created with Altenew's Moroccan Mosaics background stamp heat embossed in white.  The flowers are colored using SET E of the Artist Markers.
I have a video for you to check out showing you my process and it's a long one!  Grab a cup of tea and join me while I show you what I did.  I also share the details of Simon Says Stamp October Card Kit and it is FABULOUS!
Check out the video here:
Supply Lists:
Are you interested in the products I used?  To make them easier for you to find, I have linked them below. (Affiliate disclosure ) Your purchases help keep my blog running at no additional cost to you and I thank you for the support!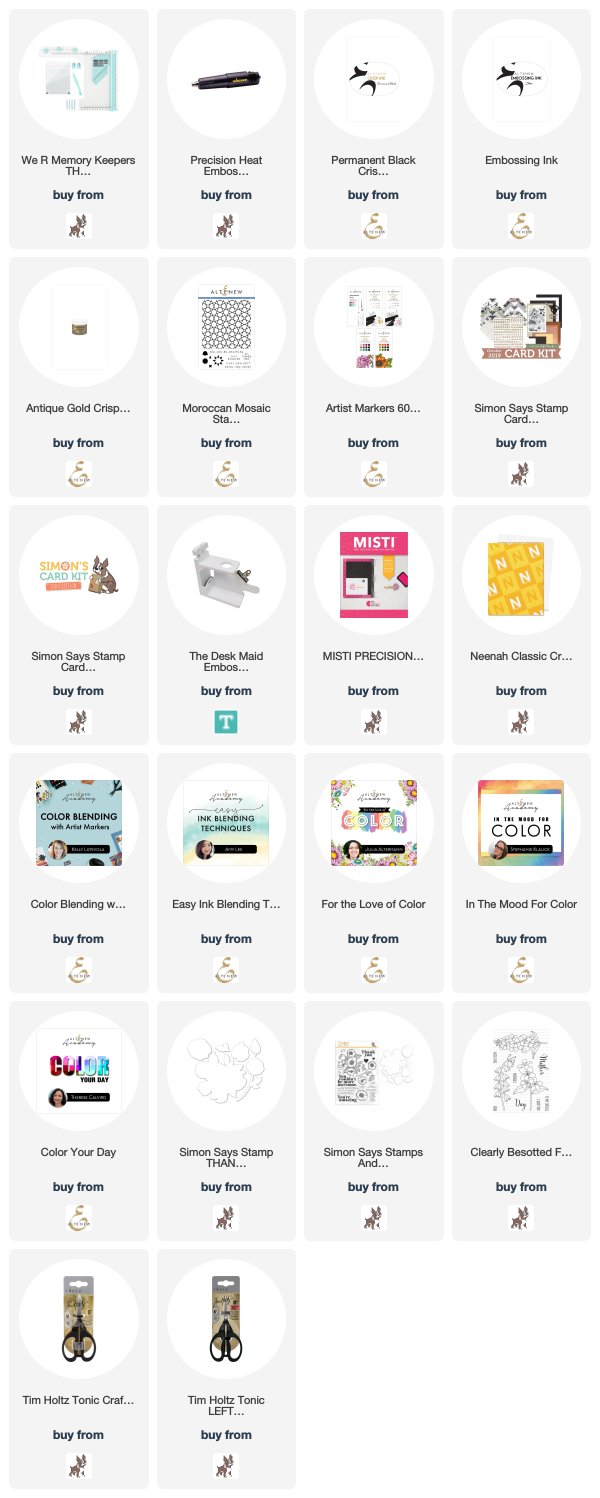 Here is another look at the card:
Thank you for stopping by!  Have a fantastic day!