Over the last few months, I have been sharing a bunch of Totally Tiffany organizing products.  I answered a Design Team call because Tiffany was forming a blogging troop and was delighted when she selected me.
I had never tried any of her products before, but my sister has been raving about the Scrap Rack and the carts.
I did not expect to love the products as much as I do!  I was so surprised by the variety of products that Tiffany carries for all kinds of organizing needs.
Tiffany used to work with Creative Memories and she is a crafter herself.  No wonder I'm finding the products that I've tried to be so versatile, sturdy and so functional for a huge variety of crafting supplies.
I've tried the Companion Cart.  You can see my blog post and the video HERE:
I've also fallen in love with the Perfect Paper Cart.  You can see that blog post and video HERE:
I've reviewed the XL Pen and Ink Palace.  You can view that blog post and video HERE:
Then there were the Stamp, Store and Go or Punch, Store and Go bags that I loved.  I loved these so much that I actually ordered 4 sets of them from HSN craft day yesterday!!! You can view that blog post and video HERE:
Now I have a new review for you on the Fab Files.  These are fantastic flexible and sturdy plastic file boxes that come with 5 heavy duty plastic file sleeves to store papers, stickers, dies, clear stamps, stencils…the list goes on.  They look so nice on a shelf and everything is organized and labeled.   You can find it and these files are protecting your supplies and papers that you spent your hard earned crafting dollars on.  I love these.  I have used the 6 x6″ size for my smaller patterned papers and the 12 x 12″ size for my scrapbooking supplies.  These store beautifully on my Paper Cart!
Check out my latest video:

Then I reviewed the Embossing Station.  The blog post and video are HERE:
Then there is the Hot Glue Gun Holder.  Here are the blog post and video for that:
I have loved all of these products.
But my very favorite one is the Stamp, Die and Supply storage piece!  I LOVE this.  It is so fantastically useful and it keeps all of my tools that I use daily right in front of me perfectly organized.  It also makes it super simple to put the stuff away as well.  I love that it is adjustable and I can make it fit and work for the tools that I have!  Here is the original blog post and video on that tool.
Tiffany is having a special blogging week and she has asked us what our favorite organizer is and she has put those on SALE for this week!
You can stop by at Totally Tiffany to check out the products that the troop has selected for this week's sale.  You will see a bunch of my favorites there as well!!
Supply List:
Are you interested in the products I used?  To make them easier for you to find, I have linked them below. (Affiliate disclosure ) Your purchases help keep my blog running at no additional cost to you and I thank you for the support!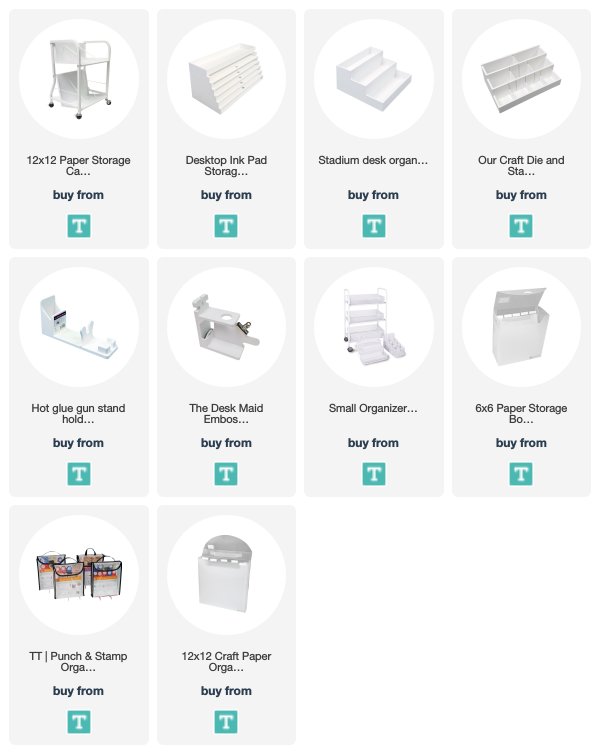 Thank you for stopping by!  I would love to know your biggest organizing challenge!  Leave a comment below and let me know!