This week's Technique-a-Week video will be focused on some die cutting techniques.  Die cutting is one way to take your cards to the next level.
I did no stamping on this card.  It is created with two dies, artist markers, and some heat embossing.
I've noticed over the last year or so that the price of dies has become way more expensive than the price of the stamps.  That never used to be true. When my kids graduated from college and became self-sufficient, I felt like I could treat myself to some extras when it came to stamping.  Those extras were the dies that coordinated with the stamps and the special tools that I never would have purchased with the kids at home or in college.  I couldn't have done it on a strict budget while raising a family.
Now that I'm retired and back on a strict budget, I'm really choosy about what I spend my crafty dollars on because I have a lot less to spend and there is no splurging.
That means that my choices need to be on items that will give me more bang for my crafty buck.  I've discovered that learning new techniques also means learning new ways to use my craft tools and that makes me happy.  I get more out of what I'm purchasing so I'm making it worth the money I'm spending.
I recently purchased a small cover die from Catherine Pooler called the Circle Stripe Die. I had so much fun playing with this today and you will see the video of this and other techniques in a day or two.
A clean and simple card with no stamping!
I used my artist markers to create stripes on the card.  Notice last weeks technique with trends using the rainbow background.
I used the die to cut out the stripes and I also die cut a plain white piece with the die.
I love this technique because you always get two cards out of it!
I cut the circle from two card fronts and I put each card front on a piece of craft foam using double sided adhesive sheets.  I then place one of the striped circles in each opening and replaced the pieces that filled in between the stripes.  I added the white pieces to the rainbow background and the rainbow pieces to the striped background.
This Catherine Pooler hello script die is one of the very first word dies that I ever purchased.  I use it all the time and I love it.  For these cards, I die cut 4 pieces out of black cardstock and glued them together to make them very sturdy.  Then I used embossing ink and clear embossing powder to give them a nice shiny look.  I gave them two coats of the clear embossing to get a really glossy finish.
The card is finished off with some sparkling clear sequins from Pretty Pink Posh to just a touch of sparkle!
My card was inspired by a Tic-Tac-Toe Challenge I found while browsing around the internet today.
These are my favorite challenges!  I actually did the left column of vibrant, circle, and stripes along with the bottom row of stripes, black, and heat embossing.
This was a fun card to create and I loved finding a new challenge that made me think about how I could use what I have to work with the selections!
Supply List:
Are you interested in the products I used?  To make them easier for you to find, I have linked them below. (Affiliate disclosure ) Your purchases help keep my blog running at no additional cost to you and I thank you for the support!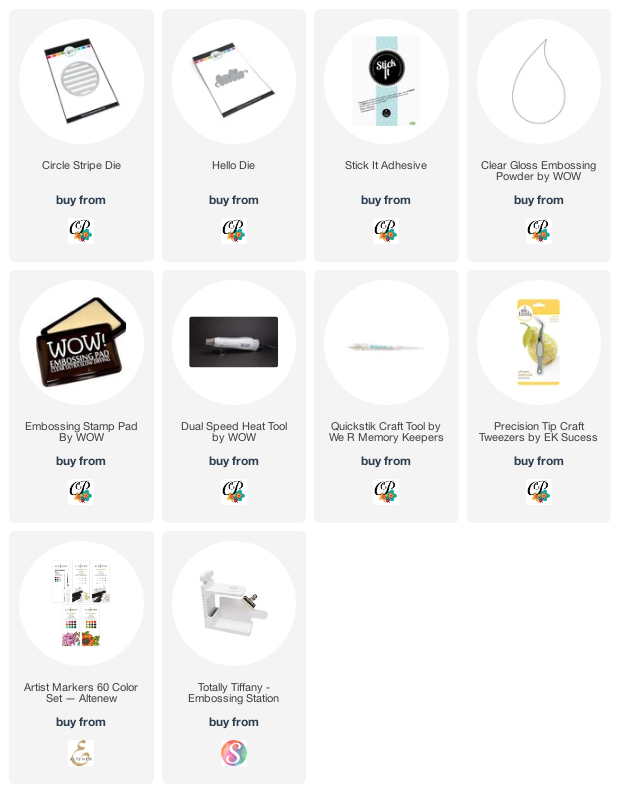 Thank you for stopping by today!  I hope you are finding some time for yourself today.  Be well my friends.