Yesterday at lunch I needed a brain break so I watched a video Debby Hughes made about no line coloring.  Honestly, it was the most gorgeous card that I have ever seen.  She is my very favorite watercolorist.
She makes it look so easy.
When I got home from work, I pulled out my Peony Scrolls stamp set from Altenew.  This is a new stamp set for me, but it has been out for a while.  Lately I've been focusing on stamp sets with cute animals and florals that I can watercolor or color with my Copics.  That's what prompted this purchase.
I stamped several of the flowers and leaves on to my Arches watercolor paper with Antique Linen Distress Oxide ink.  Then I pulled out my Kuretake Gansai Tanbi watercolors.  This is a new set of watercolors for me, so I'm not as familiar with the colors.
I taped down my stamped watercolor paper to my hard board and started watercoloring.
I truly tried to channel my inner Debby Hughes.  I know she's in there somewhere.
Then I thought maybe I could just channel real Debby Hughes, but she's in a different time zone.  So that didn't work either.
This no line watercoloring is much more challenging than it looks.  I ended with no definition between the petals.
So I added some black watercolor to try to create some darker areas where the petals should be.
Mostly it just looked like a hot mess and it was 9:30 PM, so it was just time to stop.
When I got home from work today and sat down at my table, I was surprised to see how much I actually liked what I had painted.
It dried so much prettier and the colors of these paints are vibrant.
Things always look better the next day.  But was I just fooling myself?
At that moment, my son came into the room to say hello and I asked him what he thought.  He took some art classes in college and high school and he's actually honest without being harsh in his assessments.  Even he liked them!
I decided to complete the cards and they are totally inspired by the technique that Debby used to create her cards, but these are totally mine!
I love this Parchment card stock that I used for the card base.  It's from Altenew.  They are having a sale on their card stock for the next couple of days.  This and their red are amazing!
At first I just tried putting it on to the card base, but then added some white beneath it.  I realized that I needed to make a watercolor background wash on watercolor paper and add splashes of black and white to all of the pieces.  (That is what Debby did.)
This was the scary part!  You just never know with the splashes.  Sometimes they are too big and sometimes they hit everything but your project.
I love how the splashes look.  My watercoloring is very loose and honestly, looks nothing like the actual stamped image.  The splatter makes it all look intentional.
I also added some silver thread because I felt that it needed a metallic element.  Of course there are sequins.  These are from Neat & Tangled and it is their Snowflake Mix.  I like this set because it is a variety of sizes in clear and white sequins.  It's pretty.
I scattered them about trying to add some on top of the flowers and tucked under things.  I've noticed that is what Debby does and I always love her cards.  Honestly, she's my favorite card maker.  I took a couple of classes with her online.  One was in color theory and she is just so knowledgeable.  She also practices her craft.  She's amazing!
The patterned paper came from Scrapbook.com and it was FREE!  They have coupons every single day.  I check the site daily to see what goodies they have for free.  This was a 6 x 6″ patterned paper stack called Vintage Girl from Photoplay.  I love it with this loose watercolor.  It just works for me!
The layout is loosely based on this week's Paper Craft Crew Sketch Challenge: 
I know.  I took some creative liberties with this sketch, but I ended up really being happy with  my end result and I was so totally inspired by Debby Hughes.  I hope that my cards inspire other people to try new things.  Or old things in new ways.
I am also going to enter this in The Flower Challenge: Your Latest Stamps and Dies
I love this challenge because I own so many floral stamps and dies.  It's nice to have an excuse to use them!  I just pulled this one off the pile of my newest stamp and die sets because it is perfect for watercoloring.
Here is one more look:
The sentiment is from Altenew's All The Hearts stamp set.
You can check out Debby Hughes and her amazing and inspirational cards HERE.  She just makes it look so easy!  I aspire to make it look that amazing!
Supply List:
Are you interested in the products I used?  To make them easier for you to find, I have linked them below. (Affiliate disclosure ) Your purchases help keep my blog running at no additional cost to you and I thank you for the support!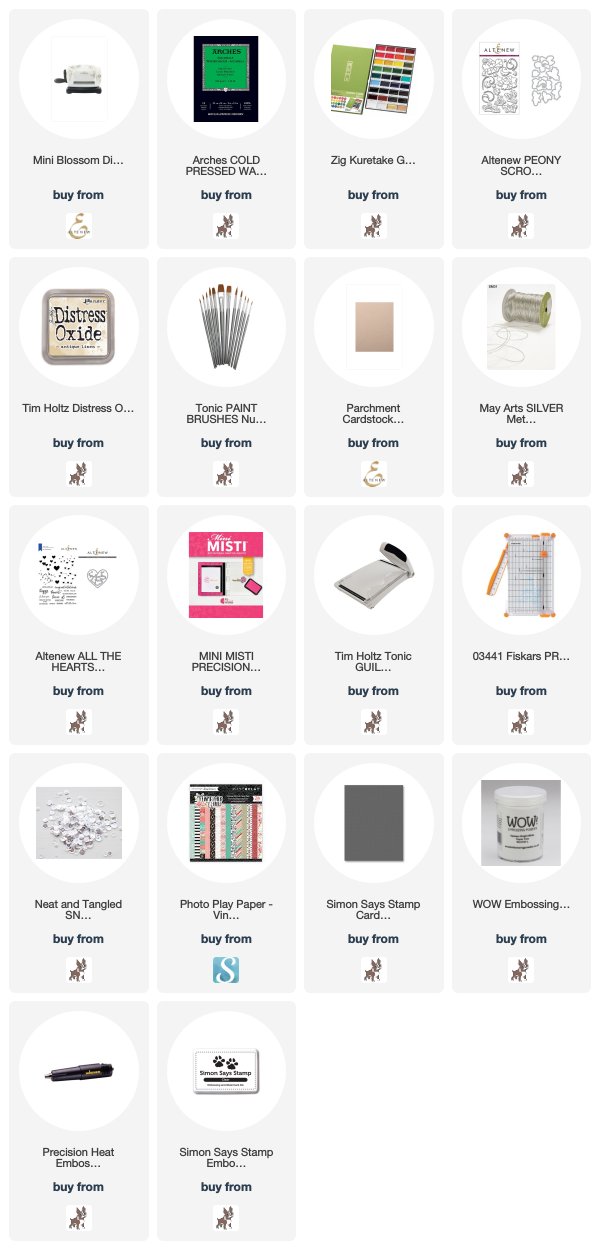 Thank you for stopping by!  I hope you find some inspiration on my blog!  Happy day!