I've been working on my inlaid die cutting technique-a-week video for this week and just realized that it is Tuesday!
Tuesday means that I have cards due for my design teams!
You know that means that I need to make a quick card so I pulled out some of my fabulous Altenew Washi Tapes and the Peony 3D Flower Die.
When you need a card fast…keep it simple!
This week's layout is inspired by the Paper Craft Crew Sketch Challenge. It's another great sketch with lots of possibilities.  I thought about making that strip another watercolor wash, but decided to play with some washi tapes.
I felt like I was really splurging when I purchased this Washi Tape.  I had a coupon and I got free shipping and…it was on sale.  Always wait for the sales! I really loved this tape and it was on my wish list for quite a long time before it went on sale and it was in stock at the same time.  I purchased a couple of their wide washi tapes while it was on sale and I have not regretted the purchase.
I've used this for a number of projects and I'm not even halfway through the roll!  The floral tapes are just stunning, but this watercolor look is my favorite.
Altenew just came out with some different widths of their gold washi tape.  I had the tiny 1/8″ width and I've used 3 rolls of it, I love it so much. This is the 1/2″ and I quite like this one too.  You can see the gold tucked behind the flower.
The flower is created from the 3D Peony Die that layers.  I created my own colored card stock using Altenew's inks and dragging the ink pads across the papers to get the colors I wanted.  The purples include: Andromeda, Hydrangea, Ultraviolet, and Wisteria.  The greens for the leaves included limeade and fresh leaf.
Altenew has several 3D layering dies and this is my favorite because it is the easiest to put together! (This card needed to be quick!)
I added a sentiment strip from Tim Holtz Idealology sentiment pads and some sequence from Little Lucy called Enchantment.
I was in the mood for spring colors today, can you tell?
Here is the sketch that I started with from the Paper Craft Crew Sketch Challenge:
Supply List:
Are you interested in the products I used?  To make them easier for you to find, I have linked them below. (Affiliate disclosure ) Your purchases help keep my blog running at no additional cost to you and I thank you for the support!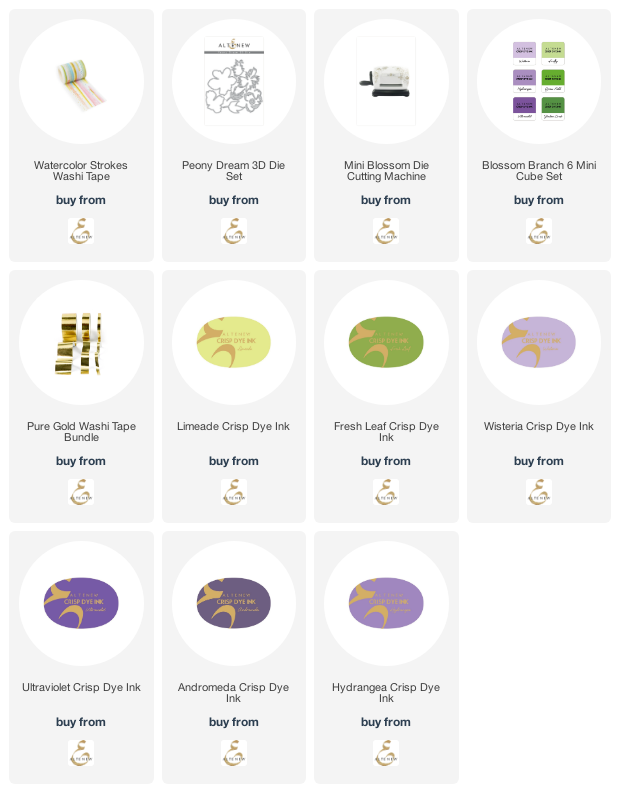 Thank you so much for joining me today!  Be well and I hope you have time to create today!