Here is a truth about me:  I'm a craft kit junkie.
There.
I said it.
I'm a sucker for a good bundle too.
Include a freebie or free shipping and I'm all yours.
But in my defense, I find that card kits and bundles have introduced me to new crafty products and tools I might not have tried otherwise.
Plus, when you do the automatic monthly subscription it just shows up in your mailbox once a month and you usually save a few bucks by selecting the automatic subscription option.  Several of the companies also include a little extra goodie for being an regular subscriber too.
So I went for it as soon as I saw the December Video Kit Goodie Bag from Sparkle-N-Sprinkle.  For $35, I got at least twice that value in Nuvo/Tonic products that would have cost me $65 for a single kit try for the box and no doubt more than that if I ordered the products through a company site.
Check out the video that I created to show you this goodie bag kit:
Usually you will also get extra coupon code savings and a private Facebook group to share your projects on with exclusive video tutorials and ideas for the projects.
I rarely remake someone else's idea, but I love seeing the creative ways you can use the products together.  I actually learned how to use alcohol markers to color faces, hair and animals from one of the exclusive video kit tutorials I received almost a year ago.  Until that point, I had been avoiding purchasing those sweet little stamp sets with the kids and cute animals that needed to be colored.  Now I LOVE those!
Don't even get me started on Nuvo products.  I got a tool kit almost a year ago and it opened a whole new world of crafty tools for me.  When I saw this kit available, I knew that I had to try it.  Someone sent me some Nuvo embellishment mousse as a thank you months ago and I fell in love with that product and now it is a staple in my stash.  I pull it out all the time to add sheen and color to my projects. I was exited to see a few things I've been curious about in this kit.
Those Aqua Flow water pens, Nuvo Hybrid ink pads, and the Nuvo Alcohol Markers.  I didn't even want to get myself started, plus…there are so many color options, where do you start.  This kit just got me started!
Plus, I got two packages of that gorgeous Tonic Hand Crafted Cotton Paper that I never would have splurged on.  Now I have 10 sheets to play with.  (I'm really hoping I don't fall in love with everything in this package!)
For $35, I got all that to try.  I'm pretty happy about that.  I used the glitter marker, the mousse, the crystal drops and the alcohol markers on the name tags for my holiday table settings yesterday.  It really was fun to have new things to play with.  It always feels like a treat and I'm learning new things.  It feels like it is keeping my crafting fresh and fun.
Maybe you're not a kit person, but I know that I am.  If I give a kit a try for 3 months and decide it isn't for me, it is easy to cancel and I end up with some new goodies in my stash.  Occasionally I get an item that I already have, but that has been fairly rare.  I used Stampin' Up! products exclusively for so long that I really didn't try anything else.
Supply list:
Are you interested in the products I used?  To make them easier for you to find, I have linked them below. (Affiliate disclosure ) Your purchases help keep my blog running at no additional cost to you and I thank you for the support!
I'm providing you 2 links: one is the link to the monthly subscription and the other is to just the goody bag single kit.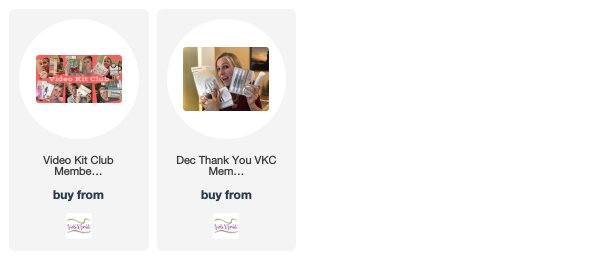 Thank you for stopping by today!  I know how busy you are right now.  I hope you are treating yourself to some quiet time and some crafty time.
Have a wonderful holiday season!