When I said I was doing a 30 Day Craft Room Clean Up, I hope you realize that I am not doing 30 consecutive days.  Mostly because it is the end of the school year and it has been very hectic.  I don't really have a good excuse!
Once you start cleaning up and working on fine-tuning your organizing systems, you find things you want to play with right now!  That's really why I'm not doing 30 consecutive days.  I need my creative time in between days here and there!
Today I am sharing an organizer that I did not expect to like when I purchased it.  When I was selected to join the Totally Tiffany Blogging Troup, I decided that I wanted to try a number of different products to see what I liked and what I would be comfortable recommending.  Tiffany has also generously sent us several items of our choice for free to review as well.
The products I'm using today are products that I purchased.  These are the Stamp, Store and Go organizers and the Punch Store and Go organizers.  I thought it would be a great way to store my punches in less space in a tidy fashion on a shelf.  I purchased one of each size to see what they were all about.
I thought that I was essentially purchasing clear plastic bag storage.
It turns out that these storage bags all come with plastic inserts.  The punch and stamp and store ones have really nice heavy weight plastic trays.  The bags themselves are made of a nice thick clear vinyl with sturdy seam binding sewn around all the edges.  They have a Velcro closure and a nice sturdy carry strap on the bags.
The trays make these a game changer.  The price point is also excellent.  These are really affordable so of course I placed a second order for several more of these.  I especially love the 1″ size or the Small Stamp Store and Go.
I can think of so many uses for these:
wood stamp storage
mini ink pad storage
stamp and die organizing supply storage
journaling supply storage
thread
project storage
ribbon storage
embellishment storage
 8-1/2 x 11″ paper storage
any on the go storage that you need!
 washi storage
 and of course punch storage
Look how nice this looks:
I realized that I could quickly catalog my stamps by making a photocopy of the stamps in the tray.  I placed an overhead transparency sheet over the top of the stamps and flipped it over on to the photocopier.  I made two copies.  One is under the stamps so I know where to put them back and the other will go in a binder with a label that tells me what shelf or drawer these are stored on.
I can't catalog anything quicker than that!
I also discovered that the 1″ depth is perfect for 48 mini ink pads and I can make a quick swatch of these on card stock while I'm putting them away.
I just stamped each ink pad onto a piece of card stock in the order that I have them in the tray.  I made a photocopy of the swatch page when I was done and placed that in the bottom of the tray for easy clean up when I use these ink pads.
I laminated the card stock ink swatch sheet and I can easily see all of the colors to select just what I am looking for!  I love this!!
I created two videos for this product.  The first one gives details and ideas about the product and the second explains how I quickly did the ink swatch page.
Creating the swatches:
Supply List:
Are you interested in the products I used?  To make them easier for you to find, I have linked them below. (Affiliate disclosure ) Your purchases help keep my blog running at no additional cost to you and I thank you for the support!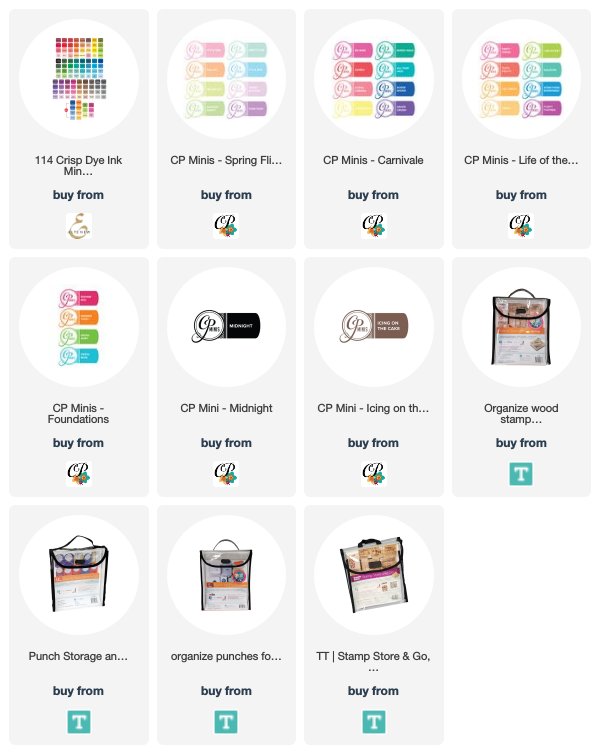 If you have these storage bags, I would love to hear what you store in them!