Have you ever spent the day immersed in your creative projects only to realize that you had tools and papers everywhere?
You know the feeling you get when you realize you've had a great day, but you really should tidy up before you call it quits.
But WOW!  Cleaning up is going to take an hour.
You know that if you leave it, you will just face it again the next time you walk into the room.
We've all been there!  I've shared pictures at the end of many of my most productive days.
I've tried to find ways to streamline my craft organization so that stuff has a place to go when I'm done with it and it is easy to put away.
If putting it away is like putting together a jigsaw puzzle…it isn't going to happen for me.  I know myself well enough.
I made Mother's Day gifts for my mother and my mother-in-law and I used digital and stamped images with my alcohol markers to create them.
Mom got the prettiest project using my Copic Markers and a fabulous digital image.  My mother-in-law got a pretty stamped image using one of Catherine Pooler's newest stamp sets using my Altenew markers.
By the end of the crafty sessions…there were markers of every color everywhere!  I needed a better system!
I've shared with you that I use the Totally Tiffany Pen and Ink Palace and the XL Pen and Ink Palace to organize my Altenew alcohol markers, clear block and specialty pens.  I love this organizer because I can remove shelves to make it work for my needs.  It's fantastic and the price point is reasonable.  It's a sturdy piece and very handy to have right on my desk.
Altenew sells 6 sets of 12 alcohol markers.  They come in a nice box with a plastic insert that is very sturdy.  I keep my markers in those plastic inserts and I keep them organized by which marker set they came from.  Altenew sells their markers in sets of 3 or 4 colors that blend together from light to dark.  You don't have to figure out which colors to layer together because they do that for you.  With my Copics, I have to decide which colors to use together and which combinations I like.  It's more work and it takes practice and trial and error to figure it out.
When I'm short on time, I use my Altenew markers.  Not thinking about color combinations is a time saver.
The problem is that at the end of my crafty sessions, the markers are all mixed up all over my desk.  I have to pull out my swatch key to know which ones go together in each set.
I solved this by pulling out 5 rolls of washi tape that I haven't used in a while.  Each set got it's own color and I also color coded the plastic cups.
Each marker in a particular set all have the same washi tape around them and I know just which plastic container to put them into.  They are on the left side of my desk right where I can easily grab them and put them away.   Everything has a nicely labeled home and I don't need a key to put them away!
So simple!  Why did I not do this sooner?  This is working smarter, not harder.
Here is a video sharing my tip with you:
Supply List:
Are you interested in the products I used?  To make them easier for you to find, I have linked them below. (Affiliate disclosure ) Your purchases help keep my blog running at no additional cost to you and I thank you for the support!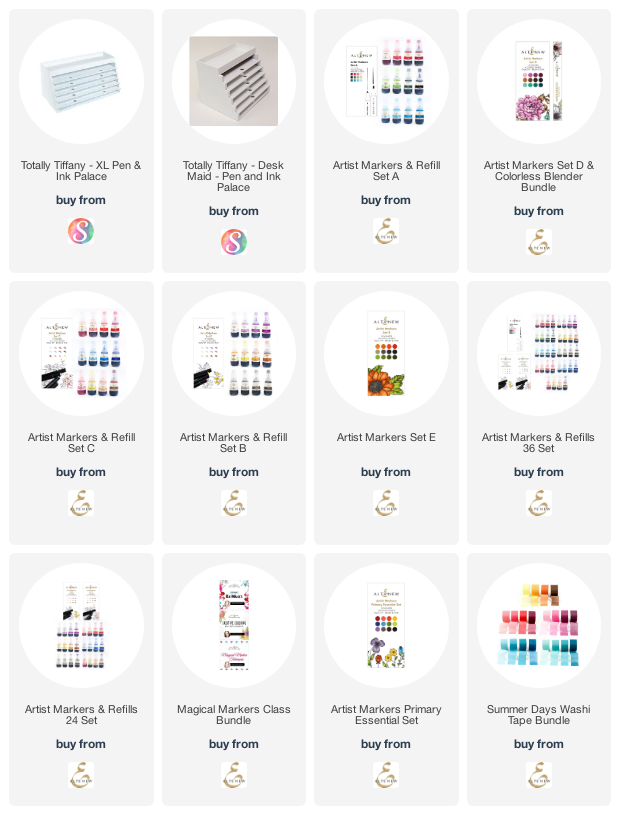 Thank you for stopping by! I hope you find this crafty tip helpful!