If you are a regular blog reader, you know that I've been taking a lot of all kinds of papercrafting classes and quite a few of them have been watercoloring classes.
I have been enjoying these immensely!  I feel like the classes are helping my crafting skills evolve because it is forcing me to try a few new things and to practice, practice, practice.
Altenew Academy has some fantastic classes and they are all less than $10.  I will link to a couple of my favorites below.  The recently came out with a set of watercolor paints that I have been loving and they had an online class at the end of August teaching a few techniques to use the paints for.  I loved it!
I also took another online class watercolor class that I enjoyed around the same time.  It came with a long class supply list that involved purchasing two sets of watercolor paints that I did not already have.  It turns out that the instructor never even used those paints!  She painted with Crayola watercolors most of the time.  Of course she made beautiful projects with them, but those are less than $2 at an office supply store.  So needless to say, I used my Altenew colors for that class too and never dug in to the new paint sets.
Until last weekend!
I finally opened the Sakura Koi Water Colors.  This is a pocket field sketch box that actually comes with a water brush and a removable mixing palette.  I selected the 24 paint pan set, although you can get a 30 pan set and a 36 pan set.  
Of course I started by creating a swatch card.  I created the card so that it will fit in the lid.  My plan is to laminate it and keep it in the lid.
Aren't the colors gorgeously bright and vibrant?  I was so surprised at the difference between these and the Altenew one.  Happily, the color palette is completely different in the two sets.  Both sets are affordable and portable and I am delighted with each of them.
The watercolor paper is cut at 4 x 5-3/4″ so I have at least 1/4″ all around for the laminating sheet and it will still fit in the lid of the case.  This is smaller set and it actually has a ring on the bottom to go over your finger so you can hold it while you paint on the go.
It also has a palette mixing pan that lifts out and attaches on the sides or the front making it really functional.
Notice the nice well to store the water brush and the sponges are actually on both sides giving you something to wipe your brush on.
When I created the swatches, I made sure that I did them in the order they are in the pan.  I have found that to be super handy with the Altenew swatches I made on the day I bought those.  It is so nice to have that to refer to for color selection and deciding how much water I want to add.
How handy is that?
I tried to make each color block start with straight from the pan paint and then I added some water so I will be able to see what the color variation potential is as I am painting.
These paints did not feel as creamy as the Altenew, and they are also less granular.  There are times that I really like that granular look and there are times I don't want it.  This set of paints will really be handy for those times.
My Altenew paints had color names which I wrote on the swatches so I can match them to the coordinating ink pads.  These have only numbers so I didn't bother writing those in.
All in all, I'm not sorry that I purchased these for the class even though we really didn't use them.  I know they come highly recommended and they are quite popular.  They won't go to waste given how much I've come to love watercoloring.
Now I have that giant 3rd set that was on the supply list that I need to make swatches for.  That set is more daunting and I almost don't feel ready to use it.
When I first started with watercolor techniques, I just used my dye ink pads.  Then I invested in the Distress Oxide inks and the Distress Markers.  I also bought an inexpensive Arteza set of watercolor paints at the local craft store and that is what I had been learning with until Altenew came out with their watercolors.
I'm experimenting with different brushes and papers as well.  This is the Canson XL cold press watercolor paper that you get in a pad at the craft store.  I got a couple the last time they had a buy one get on 50% off.  I do love a good sale!
Supply List:
Are you interested in the products I used?  To make them easier for you to find, I have linked them below. (Affiliate disclosure ) Your purchases help keep my blog running at no additional cost to you and I thank you for the support!
I am adding links below to some of the Altenew products and classes.  You will notice that there is a new one called Rethinking Re-Inkers that starts next week.  I can't wait to take it!  Even if I only get 1 idea, the classes often remind me of techniques I haven't used in a while and I get a refresh and a chance or excuse to practice!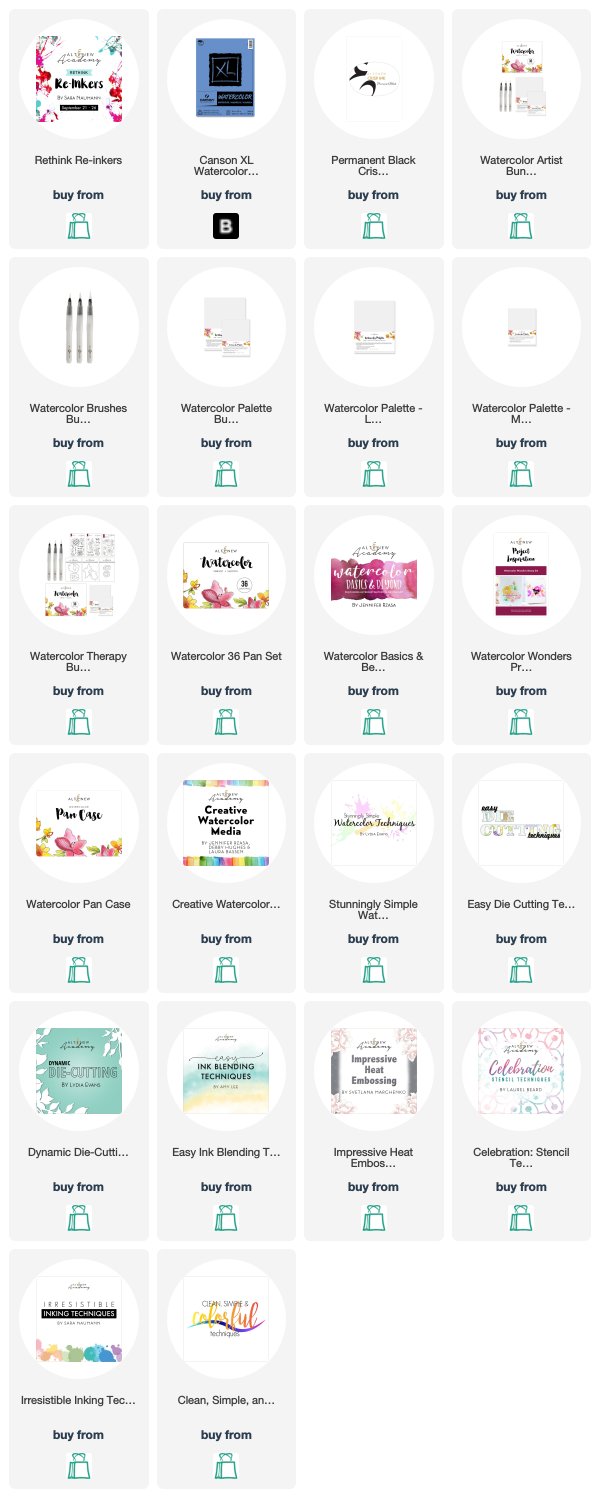 Thank you so much for stopping by!  I love hearing from you so please leave your comments below.  I would love to hear about your favorite techniques or classes that you have taken and loved.