I recently started exploring Distress Oxide Inks.  I just fell in love with them when I got a set of two of these ink pads in a card kit.  I stamped with them and then started experimenting with water techniques and blending these fantastic inks.
I LOVE the chalky look and feel to them.  I know that they don't actually have chalk in them.  They are pigment inks with some dye in them and they are delightfully water reactive.  There are oh so many ways you can add water to them to change their appearance and get interesting effects.
Then of course, once you get the inks you need the reinkers and of course at that point I discovered Distress Markers.
**Sigh**
I had never played with any items in Ranger's Distress line.  So then I got 3 sets of 4 mini ink cubes in the regular Distress Inks just to see what they were all about.  I also purchased a few of the alcohol inks to see what those were about.  You know that at some point, I will complete my collection of those two lines.
I decided that it was time to swatch the inks that I have right now so I can have them on a ring to use for color selection and comparisons.  I just love have the swatches for my ink pads, markers and watercolors.  It is just so functional!
This is my craft desk today!  You can see my Stamp-N-Storage 60 ink pad combo holder that sits right in front of me on my desk.  I used to use this to store my Stampin' Up! inks, but now that I'm not using those as often, I am using this for my Distress Oxides and the Distress Markers.  I love these inks.  I love all the techniques you can do with them and I love blending them.
I have my label maker out, my blending foams and Velcro, my water pen, my meager supply of Distress Inks and my Simon Says Swatch Kit.  I cut watercolor paper to 1-1/4 x 3-1/2″ so that I could create watercolor swatches of both the oxide inks and the distress markers.  I stamped them on the regular card stock and then swiped them onto the watercolor paper and used my water pen to do some blending with water.  My markers are also on both pieces so that I can see them on both kinds of paper and with or without water.  I am also creating a swatch for the few regular Distress Inks that I have.
This weekend, I will be starting a class on re-inker techniques so I will no doubt swatch out re-inkers at some point.  I am really finding the swatches so useful and I really find that playing with them is allowing me to get a feel for how these inks behave under different circumstances.  Experimenting is part of the creative and artistic process just like it is part of the scientific process.  It is how I learn.
I actually took a couple of Tim Holtz's Creative Chemistry Classes and I've watched several of his instructive videos where he shows how the inks work and the chemistry behind it.  Being a Biology/Chemistry/Physics/Earth Science teacher, I find the explanations about how it is working extremely useful as I develop my own style of techniques in working with these fantastic tools.  Tim Holtz suggested swatching them on black and craft card stock as well.  I may add that to my ring in the future.
Here is a closer view of the swatches I created.  I only got 4 inks done because I spent the morning (5 hours) getting air bags replaced on one of our cars because they have been recalled.  This gave me time to watch some instructive videos and learn some great stuff.
First of all…you can see my small collection of Copic markers in the left corner of my desk.  I don't use them very much and at this point it seems unlikely that collection will grow too much more.  I love my Altenew Alcohol markers and I'm really comfortable using them.
Well…I watched a great video someone named Sandy did at Online Card Classes about the reason behind the letters and numbers on those Copic markers.  Can I tell you that a huge light bulb actually lit up above my head?!  It all became so clear.  It took a lot of the mystery out of how to pick colors to blend together.  Which ones do I buy, where do I start, do I need all of them…that is over $2500?!  WOW!
Collecting Distress inks is one thing, but that Copic thing is a different ball game.
Yet, I know that if I want to continue to grow in the papercrafting world, I must become an expert colorist.  You don't win the challenges and get invited on the design teams unless you can color with alcohol markers, pencils and watercolors.  So I'm educating myself, practicing and experimenting.
I'm having a blast!  I can't believe  how much fun I'm having learning all of this and experimenting to see what I like and what works for me.
I also watched a video on the Distress Crayons…
They will be here by Friday.  With that cute metal storage box.
**Sigh**
I'm hooked!
Thank you so much for stopping by!  I'm adding some links below so you can browse through some of the goodies I'm enjoying…I only linked a few!
Are you interested in the products I used?  To make them easier for you to find, I have linked them below. (Affiliate disclosure ) Your purchases help keep my blog running at no additional cost to you and I thank you for the support!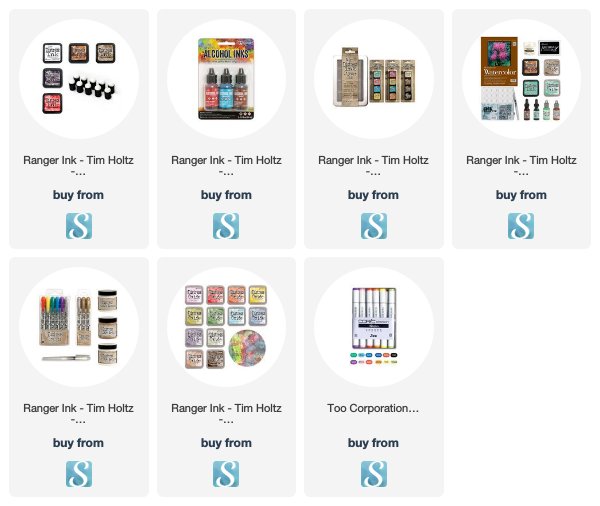 Oh yes, I just did that!  It's so tempting isn't it?!  If you're looking for justification, I always tell myself that I work hard and deserve a treat.  Plus, I really do use my crafting supplies and I really enjoy them.
Just sayin'.
**Sigh**